For day 2 of Malta Meat Free Week, I dedicate the recipe to my favourite Italian city by making home-made Supplì al Telefono, Rome's version of arancini, oven-baked – not fried, and veganised.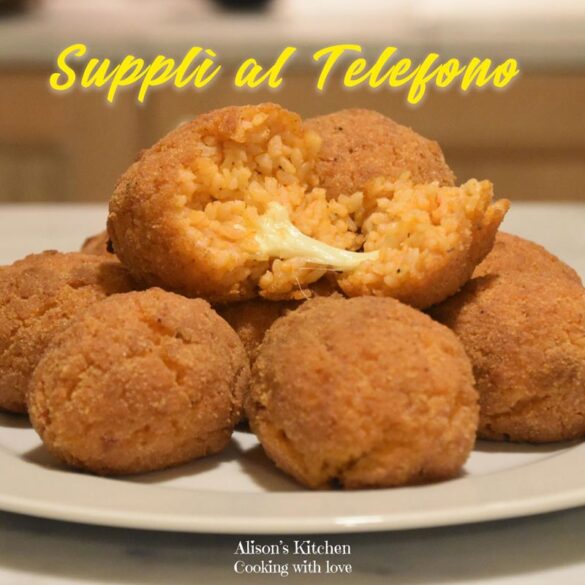 Ingredients
500g riso Roma or Nano
1.5lts vegetable stock 
tomato puree/sauce
tomato paste
sunflower oil
vegan cheese cubes
200g plain flour
300g ice cold water
breadcrumbs
Instructions
1. prepare a very simple risotto with 500g of riso Roma or nano (there are various types suitable for supplì), allowing it to release its starches in vegetable broth until al dente.

2. add 1 tbsp tomato paste and 1 tin of tomato sauce/puree plus seasoning, to turn the risotto into a nice reddish colour. Add gratd cheese-alternative if you like and cook until the consistency is thick but not totally dry.

3. transfer the risotto on a shallow tray to quickly drop the temperature. If you don't have much time, place the tray in the fridge for 30mins.

4. prepare 2 bowls, 1 with batter/pastella (200g plain flour and 300g ice cold water) and another with breadcrumbs

5. start forming balls of rice with your hands, fill the centre with small cubes of mozzarella-style cheese alternative (I chose GreenVie Foods), and close the balls to form an oval shaped supplì (with 500g of rice I made 10 large ones)

6. pass each ball in the batter and then roll them in the breadcrumbs to cover them evenly

7. place them in a non stick oven tray and into a hot oven for about 40mins. Whilst baking, slightly brush each supplì with a little vegetable oil to create a golden crust

8. allow to cool for a few minutes and enjoy eating Roman-style supplì al telefono!
Thanks Chef Gian Piero Fava on È Sempre Mezzogiorno Rai for the inspiration. Pics by me