Spicy mexican dinner! Yes, please. Before I have become a vegetarian, we used to make chicken fajitas now and then, and I used to love it. Ever since I stopped eating meat I don't think we have made these.. till now. I am so glad I remembered this recipe because it is really easy and tasty. In addition, soya cubes are lot easier to prepare than the actual chicken.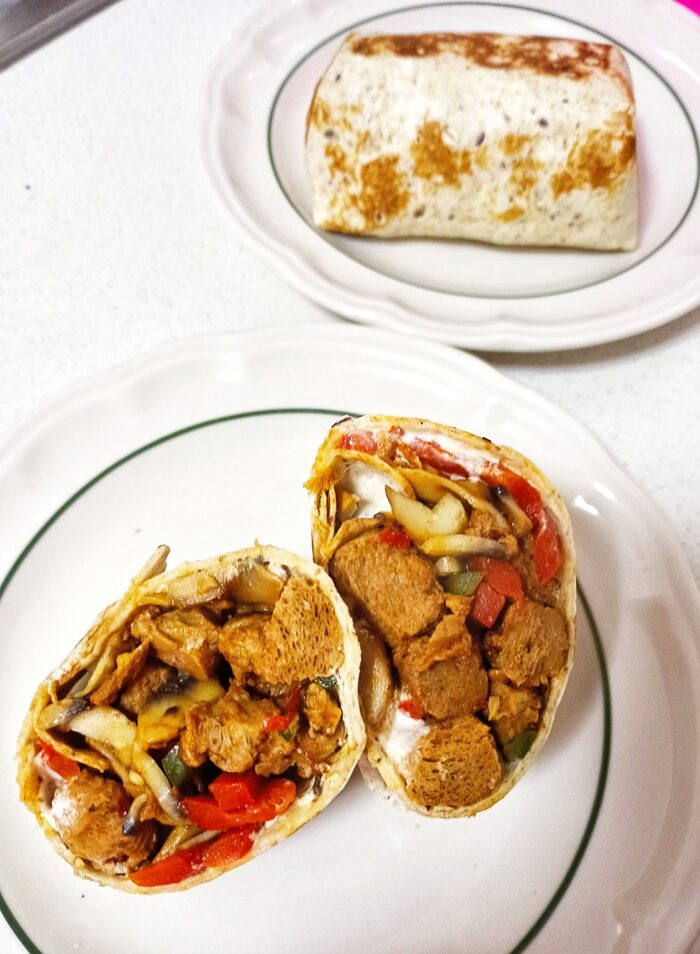 Ingredients:
1 red onion
Small red, green and yellow bell pepper
50g soya cubes – I used Good Earth brand
2 tbsp olive oil
1 big clove garlic
1 tsp smoked paprika
1/2 tsp sweet paprika
3/4 tsp ground coriander
1/2 tsp ground cumin
1/4 tsp chilli flakes or fresh chilli pepper
Lemon juice
To serve:
4 wholegrain tortillas
Soya greek yogurt – I used alpro
Directions:
Soak the soya cubes in hot water.
In the meantime, cut your onions and peppers into thin stripes. Heat the oil in a wok and add vegetables in it alongside with minced garlic and chilli. Saute for about 20 minutes (add water to prevent burning if needed).
In a small jar combine smoked paprika, sweet paprika, coriander and cumin together.
When the vegetables is almost done, drain the soya cubes, squeeze the water out and put it in the wok. Season with your prepared seasonings and mix well.
Turn the heat off and drizzle with lemon juice.
Spread greek yoghurt on the tortilla, add the fajitas mixture, close off and grill on a heated pan from all sides. Cut in half and serve.