Do you want a risotto that has half the carbs and cooking time of a traditional risotto? Here you go! Try this recipe which replaces rice with oats. Malta Meat Free Week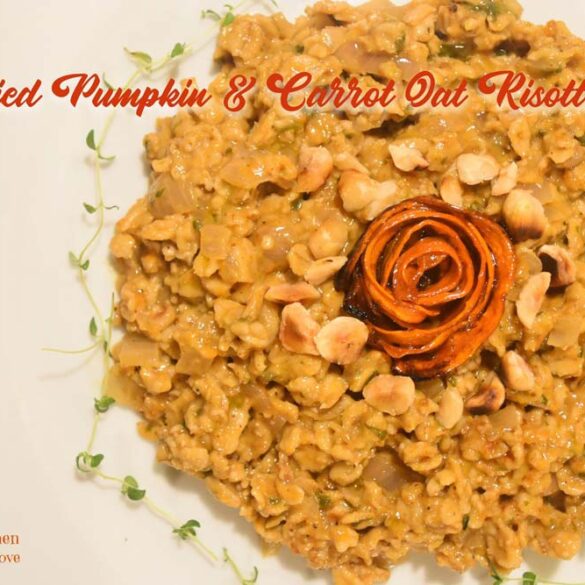 Ingredients
250g steel cut oats (or rolled oats)
1lt vegetable stock 
400g pumpkin
fresh parsley leaves
curry powder
roasted hazelnuts
1 carrot sliced into thin strips with a mandolin (for decoration)
fresh thyme sprigs
1 yellow onion, finely chopped
1/2 cup white wine
Instructions
1. Place 400g of cubed pumpkin flesh on a baking tray (approx. 200g per person), sprinkle a few tbsp of curry powder and a drizzle of sunflower oil. Mix well and bake in a hot oven for a few minutes until the pumpkin is tender. Allow to cool.

2. Transfer the pumpkin into a blender to puree it with a handful of fresh parsley leaves and seasoned with salt and pepper, set aside.

3. Sauté 1 yellow onion (finely diced) in a pan, add 250g of oats (ideally you buy steel-cut oats, but I couldn't find locally so I used rolled oats instead). Deglaze with 1/2 cup of white wine until absorbed, top up with veggie stock and cook until the oats are tender but firm, but not too soft. It shouldn't take more than 10mins.

4. Mix in the pumpkin puree and coconut cream to round up the flavours and give it a true curry taste.

5. Plate it, top it with crushed roasted hazelnuts and decorate with a maple-glazed carrot rose and fresh thyme sprigs.

6. Enjoy!
Pic by me