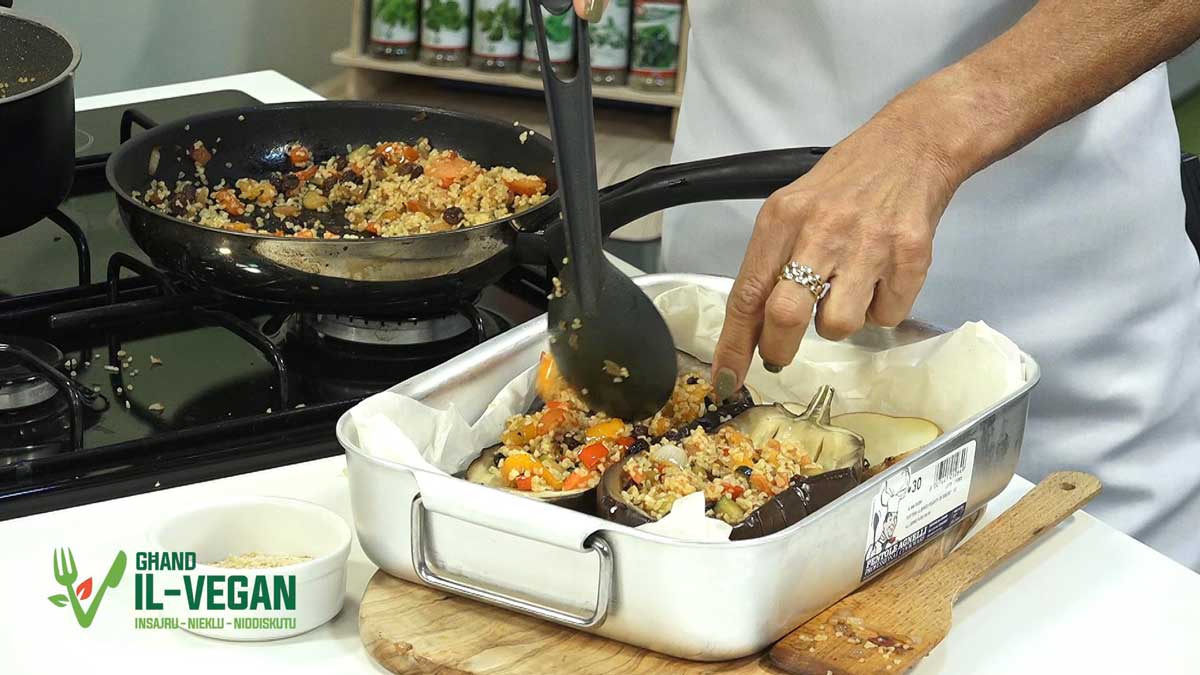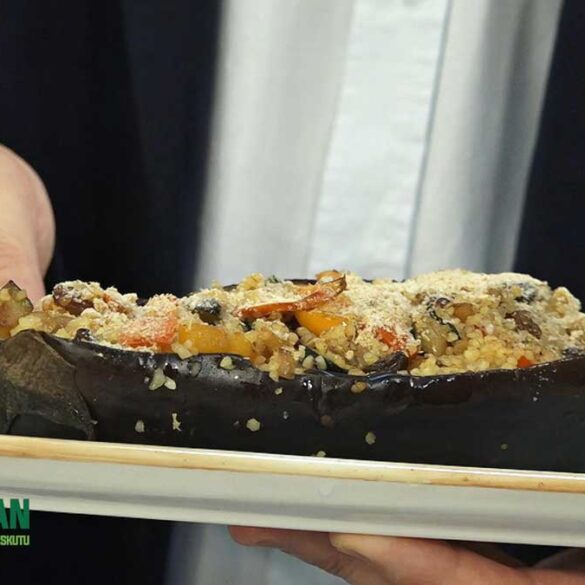 Ingredients
1 large eggplant
Fresh pepper and sea salt
Olive oil
FOR THE STUFFING
200g Bulgar wheat
2 sweet peppers – try pick orange and yellow to add colour to the dish
1 medium courgetti
2 large cloves garlic - chopped
1 medium red onion diced
1 cup sultanas
Fresh basil, mint and dry thyme
10 sundried cherry tomatoes or fresh cherry tomatoes.
Instructions
Heat oven to 220c (gas mark 7) slice the eggplant into half lengthwise, do not remove the stem. With a small sharp knife cut along the border inside the aubergine halves and with a teaspoon scoop out the flesh. It does not matter if aubergine half does not look neat after this. It will be hidden under the stuffing ? Brush the aubergine insides with a little oil, season, sprinkle with thyme and place in a baking dish.
Cover with foil and bake for about 20 minutes. Chop the scooped flesh into cubes and set aside in a small bowl.
Whilst the aubergine halves are baking you can prepare the stuffing.
Rinse the bulgar wheat and drain properly.
Cook for about 15 minutes or until the water is almost completely absorbed then use a fork to fluff the grains whilst cooking uncovered. Season to taste. Add a teaspoon of vegan butter for creamy consistency.
In a pan cook the chopped onion and garlic in a little olive oil, add the diced sweet peppers and stir with wooden spoon, add a little wine or water to cook. Sauté (not fry) the vegetables then add the sundried tomatoes and the sultanas, continue to stir till the vegetables get softer and finally add the chopped herbs.
Reduce flame to a minimum and add the bulgar wheat. Mix thoroughly so all the flavours mix together.
Remove the aubergine halves from the oven and fill each with the bulgar mixture. Top with fresh breadcrumbs and mixed seeds.
Remove, let cool for a few minutes and tuck in.
Notes
Serving suggestion – Place each half on a plate and with roasted Maltese potatoes on one side and a big dollop of hummus on the other side.