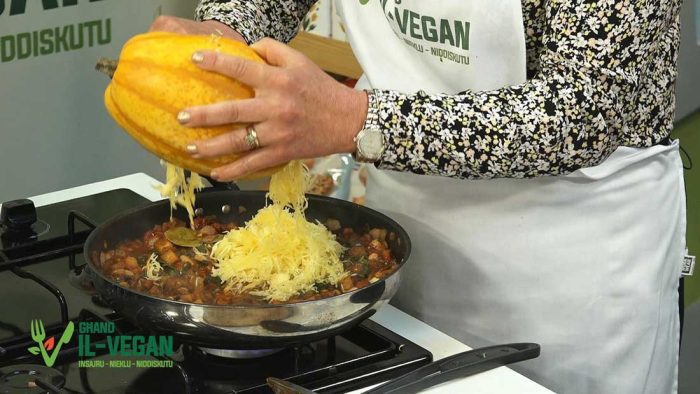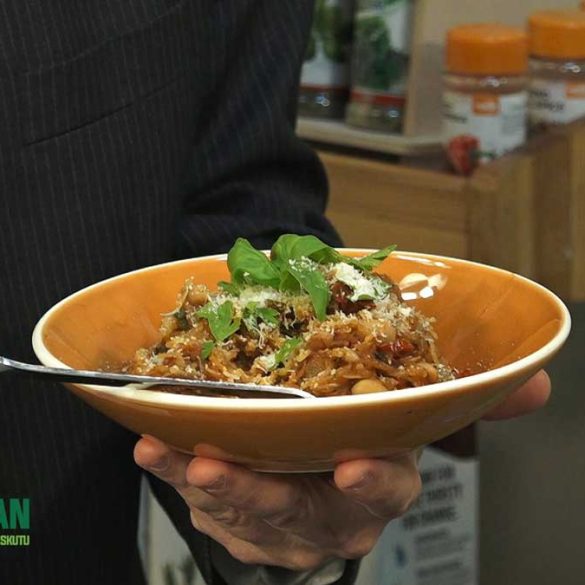 Ingredients
1 onion
3 garlic cloves
1 tsp curry
1 cup diced aubergine
6 sundried tomatoes
1 cup cannellini beans
250g tomato sauce (passata)
Cup water
2 tbsp. balsamic vinegar
4 bay leaves
Fresh basil
4 Swiss chard
Parsley, basil and vegan parmesan to serve
Instructions
For the boiling method to prepare the squash:
Boil a whole spaghetti squash for 20 minutes if it is larger than 1kg add 5-10 minutes.
Cool slightly and cut in half to cool completely. Remove seeds and fork out spaghetti squash threads.
--------------
Wash and chop the vegetables.
Fry onion in olive oil until translucent.
Add garlic and aubergines and fry until aubergines are soft. Season with curry, salt and pepper.
Stir in the tomato puree (passata), a cup water, the chard and the sun dried tomatoes.
Cook until chard is wilted. Add the beans and the cooked spaghetti squash threads, the balsamic vinegar and the basil.
Stir gently and cook for further 5 minutes. Serve with vegan parmesan cheese, parsley and basil.