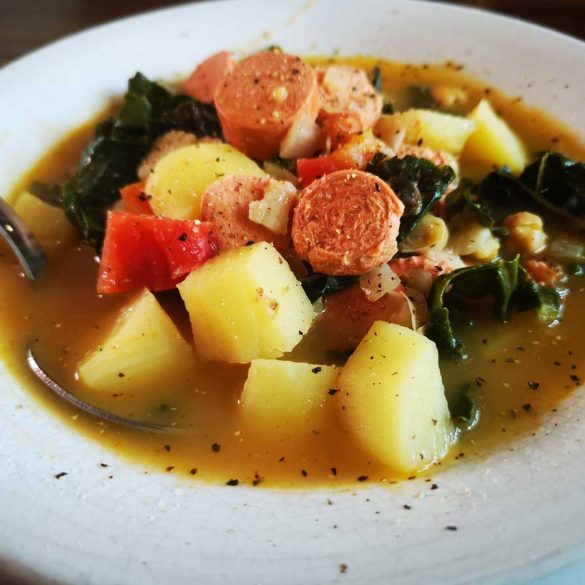 Ingredients
2 large vegan sausages cut into slices
3 medium potatoes, chopped
2 medium onions, chopped
2 tablespoons olive oil
1 bunch kale, trimmed and torn
4 garlic cloves, minced
1/4 teaspoon pepper
1/4 teaspoon salt
2 bay leaves
4 large tomatoes diced
1 can chickpeas, rinsed and drained
1 cube of vegetable broth
Instructions
Set the oven to medium-low heat, heat oil and cook the vegan sausage, potatoes, and onions for about 5 minutes, or until the sausage is warmed through, stirring occasionally.
Place the kale, cover, and cook for an additional 2-3 minutes until the kale wilts. Add the garlic and cook for an extra minute.
Include the rest of the ingredients and bring the mixture to a boil. Lower the heat, cover the pot, and let it simmer for 9-12 minutes until the potatoes become tender.
Remove and discard the bay leaves.