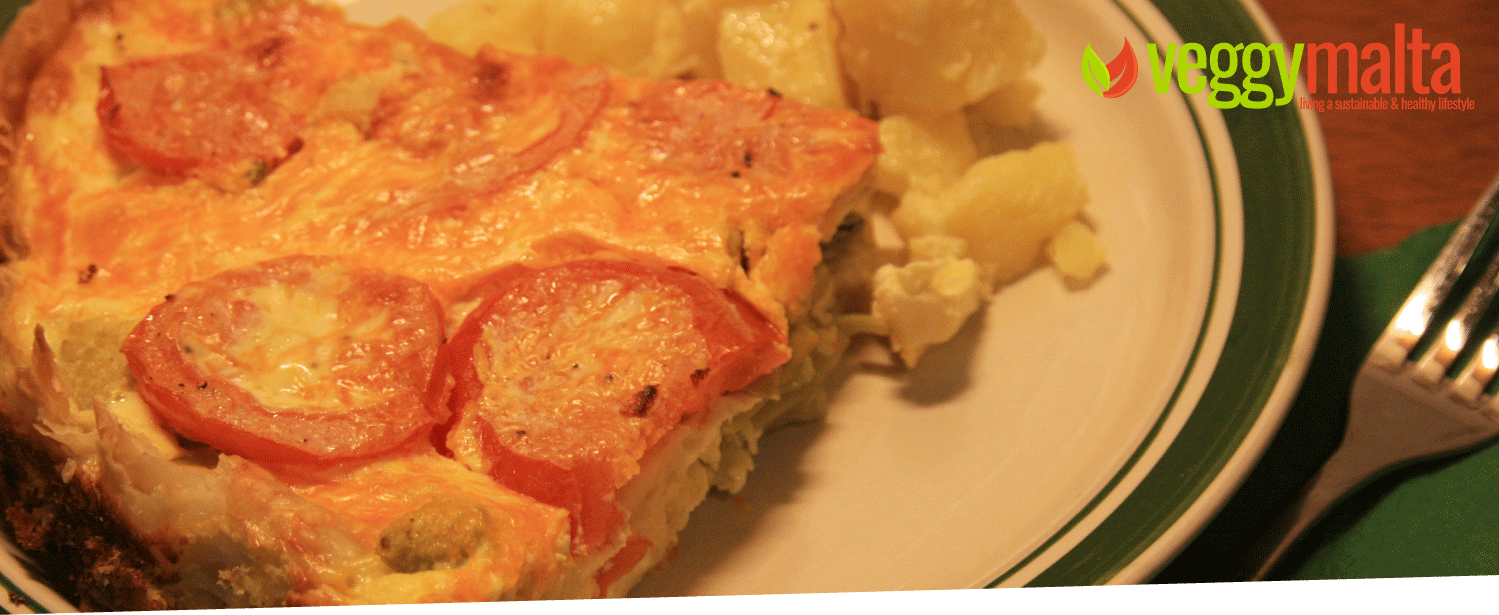 In the cold winter months, something nice and warm is always welcome. This week I am sharing a recipe of how to make a Quiche Lorraine Romanesque. Especially since Romanesque cauliflower is becoming more and more popular. This recipe contains some ingredient variations depending if you want a vegetarian Quiche Lorraine or a vegan Quiche Lorraine.
Making the crust
Mix all the dry ingredients in a large bowl. Add the soy milk, the oil and margarine and blend properly. Start adding half a cup of cold water and slowly add water as needed. You need to form the dough into a ball. (I find that having wet hands makes the process easier). Flatten the dough into a cube, wrap it with some cling film/plastic wrap, and put it in the fridge for 30 minutes.
Set the oven at 120°C/248°F. Take out the dough and flatten it. Lay it out at the base of an oven dish. Place foil over it. Cover it with dry beans or anything that can be used as a weight. Place in the oven for 12 minutes. Set aside (remove the foil and beans).
Making the contents
Boil the potatoes and Romanesque cauliflower florets (cut into bite size). They need to remain a bit stiff (do not over boil). Remove and let them cool.
In a pan melt the margarine and put in the finely cut leeks and onion until they begin to soften. Do not let them get golden. Add the potatoes and the Romanesque cauliflower for about 2 minutes and stir.
In a bowl beat the eggs or the flaxseed (already mixed with water), the milk (dairy or soy or almond), the soy cream, salt and pepper and the mustard and mix well. Separately cut the tomatoes into slices.
Place the pre-baked crust in the baking container and cut to size. Pour the vegetables onto the crust. Place the sliced tomatoes at the top. Pour the liquid mixture over everything and ensure that it is evenly distributed.
Insert in the pre-heated oven at 120°C/248°F for 30 to 40 minutes or until golden brown on top and middle is soft (insert knife to test). Remove the Quiche Lorraine from oven and leave to cool for 15 minutes. Slice and serve.
Ingredients for pie crust
350 ml (1 ½ cup) flour (can be white or whole flour or mixed)
pinch of salt
½ tbsp vegan sugar
120 ml (½ cup) olive oil
½ tbsp soymilk
240 ml (1 cup) vegan margarine
120 ml (½ cup) water
Ingredients for contents
1 leek
1 Onion
3 potatoes
1 Romanesque cauliflower (florets only, cut into small pieces)
1 tbsp of vegan margarine
240 ml (1 cup) milk / 240 ml (1 cup) soy or almond milk (vegan)
4 eggs (vegetarian) / 4 tbsp flaxseed + 12 tbsp water pre mixed (vegan)
240 ml (1 cup) soy cream
Pinch of salt & pepper
½ tbsp mustard
350 ml (1 ½ cup) vegan cheese shredded
2 large tomatoes