The vegan paella recipe is a delightful dish that embraces the vibrant and flavourful ingredients commonly found in Mediterranean cuisine. Bursting with the essence of olives and tomatoes, this plant-based version of paella is both satisfying and nourishing. It draws inspiration from Mediterranean ingredients such as olives and tomatoes. It is a simple and nutritious dish.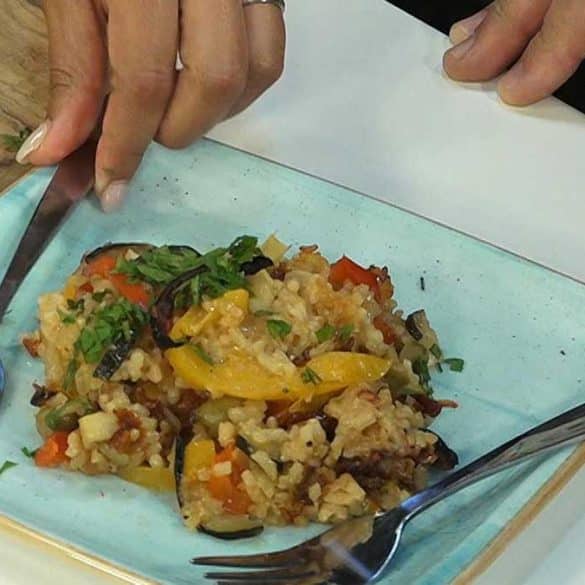 Ingredients
2 tbsp olive oil
2 onions, thinly sliced
1 red pepper, sliced
1 yellow pepper, sliced
1 courgette, halved and cut into half moons
2 cloves garlic, thinly sliced
1 tbsp kunserva (tomato paste)
300g paella rice (or Arborio if you can't find)
850ml vegetable stock
100g artichokes
75g mixed pitted olives
75g Mediterranean Sundried tomatoes
a small bunch flat-leaf parsley, chopped
1 lemon, wedged
Instructions
Chop all the ingredients as directed,
In a pan fry the onions and bell peppers and courgettes and leave them for around 10 minutes,
Add some salt,
Start heating the vegetable stock,
Then add the garlic cloves,
Add the kunserva / tomato paste,
After that add the paella rice and let it absorb the flavours and take some colour for a minute or so,
Add the vegetable stock,
and with it add the artichoke hearts, sundried tomatoes and olives and let them cook a bit,
Place all the ingredients in a oven tray ensuring that all the rice is covered with water and put in the oven for 20 minutes or until golden.
Garnish with some lemon and parsley,
Plate and enjoy.