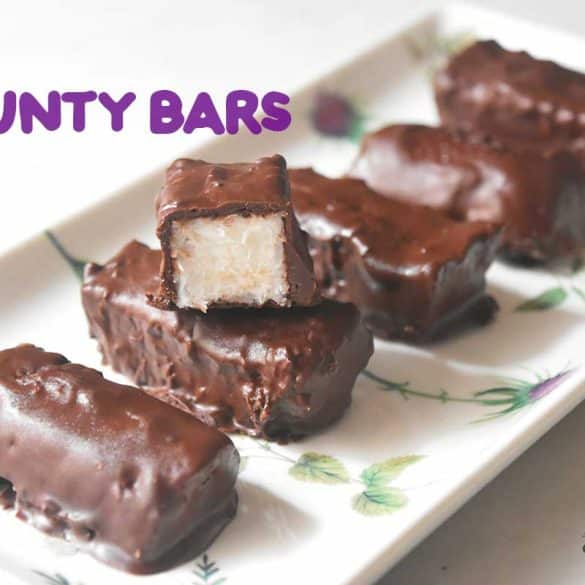 Ingredients
200g desiccated coconut
coconut oil (a couple of tablespoons should be enough)
100ml coconut cream
300g dark chocolate (or any plant based chocolate, e.g. Cadbury Plant Based)
Instructions
Line a loaf tin with oven paper.

In a bowl, mix the dessicated coconut, coconut cream and melted coconut oil.

Press the mixture evenly into your lined loaf tin and place it in the freezer for 1hr to ensure the coconut mixture hardens.

When you remove the tin from freezer, lift the mixture with the help of the oven paper. Cut in half (lengthwise), then cut each half into small rectangles similar to the original Bounty.

Melt the dark chocolate in a double boiler and dip each rectangle into the hot dark chocolate to cover it completely, helping yourself with a fork. If you don't like dark chocolate, you can easily melt plant-based milk chocolate like Cadbury Plant Based. I am not a sweet tooth so I prefer the contrast of dark chocolate with the natural sweetness of coconut, plus it's healthy too.

Place each piece onto a baking tray lined with oven paper to avoid sticking and transfer to a freezer again so that the chocolate cover hardens, for about another hour.

Once ready, display them on a serving tray and enjoy!