This 100% plant based recipe is a vegan twist to a meat based recipe. It is ideal for those who love avocados and looking for a light meal. You can experiment and add a variety of items along with this base recipe, according to what you prefer or what you have available at the moment. If it turns out that you have too much filling, don't waste it as it goes perfect with a sandwich. This recipe also has the added plus of being both gluten free and dairy free.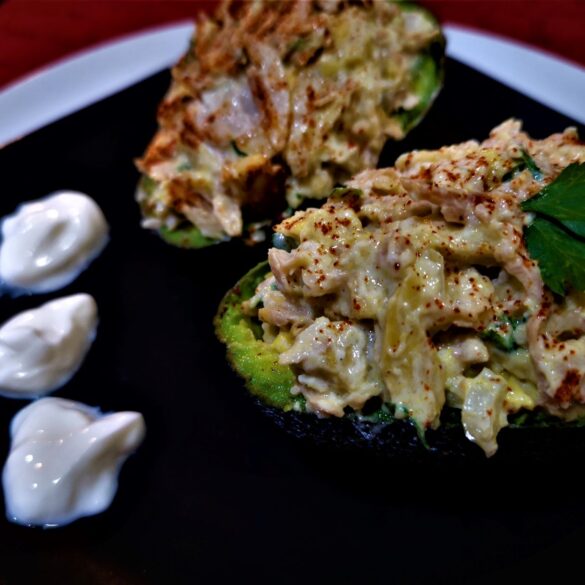 Ingredients
2 cups Meat Free Chicken alternative
1 Lemon (juiced)
2 large Avocadoes (pitted)
2 tbsp fresh Parsley
1 small onion (finely chopped)
1 tbsp mustard
1/3 cup Plant based yoghurt
Salt & pepper to taste
Red pepper
Instructions
Start by preparing the avocados. Cut the avocado in half and scoop out the contents.
Chop the scooped avocado.
Prepare your favourite meat free chicken (that's a vegan alternative) according to how it is recommended on the packet grilling or shallow frying whichever you prefer.
Whilst the onion into thin slices.
In a bowl, add the meat free chicken, the chopped avocado, onion, diary free yoghurt, lemon juice, the mustard and add salt and pepper to taste.
Fill the avocados halves and garnish with some fresh parsley leaves and some red pepper. 
Serve and enjoy.
Notes
If you have some more time you can give it an extra crunch by adding carrots and cucumbers. Additionally you can also add some apples and dried cranberries.