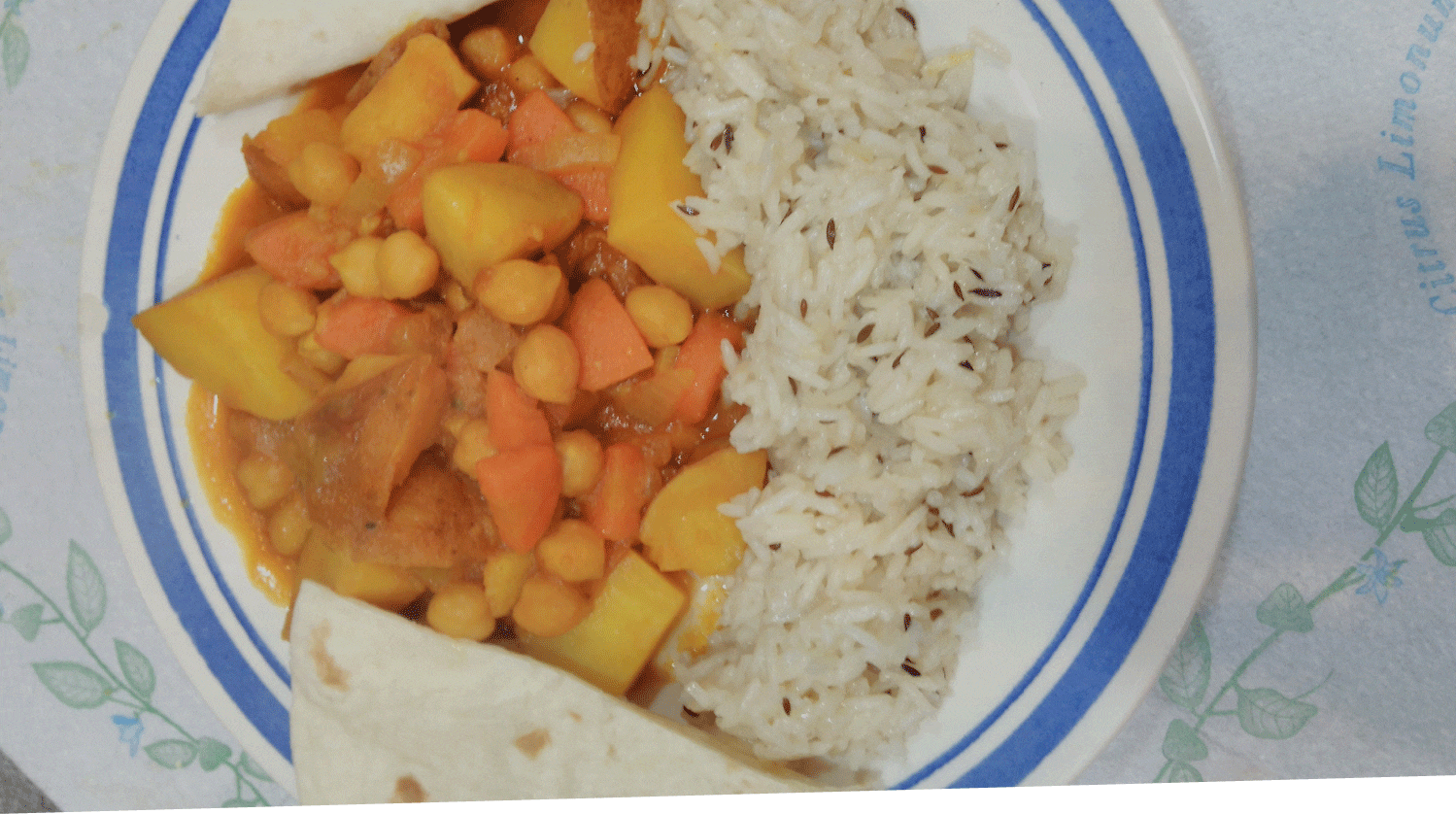 This type of weather calls for warm, hearty, nourishing comfort foods. Stews, chillies and curries instantly come to mind. Pots of delicious vegetables, nicely spiced and served piping hot. I am very partial to Indian food, so recently started experimenting with curries. Vegetables such as potatoes, carrots, cauliflower, peas and broccoli are great in curries. As are dried varieties of beans, chickpeas and pulses such as lentils. It doesn't take long to prepare a simple curry which can be served any day of the week.
Quick and easy Potato, carrot and chickpea curry for 4 persons.
2 large cloves of garlic, crushed
1 medium onion, finely chopped
2 tablespoons vegetable oil
2 tablespoons curry powder
1/2 teaspoon each turmeric, ground cardamom, ground cumin and ground coriander. ( The addition of these spices is optional, but they do give the curry more flavour)
1 teaspoon chilli paste (if you like a hot curry)
2 large carrots, diced
200 g dried chickpeas, soaked overnight and then cooked ( you can also use a can of chickpeas, drained)
4 medium potatoes, cut in bite sized cubes
250 ml tomato passata
250 ml vegetable stock ( or coconut milk, depending on how thick you like your curry)
Warm oil in a medium sized pot, add garlic and onion and sauté until soft but not browned. Add curry powder, spices and chilli (if using) and stir through for about a minute. Then add vegetables and chickpeas, stir , cover and cook for about 5 minutes. Add the passata and enough stock to just cover all ingredients. Bring to a boil and then gently simmer until vegetables are tender. If you like a creamy curry you can replace stock with coconut milk.
I like to serve my curries with basmati rice and garlic flat-bread. Start by toasting a tablespoon of cumin seeds in a dry pot for a few seconds until they start to become fragrant. Then add the rice and water and cook gently till done. Warm your plain flat breads, then spread with garlic butter. Fold and cover to keep warm until ready to serve.