Slightly more advanced recipe, but if you've spent an hour or two in the kitchen during your life, you will master it for sure. Get ready to get messy! You'll need some more patience as well since every piece has to cross your hands. But the final result is heavenly good and the feeling that all your love is in this one portion of food is priceless. Let's get it done!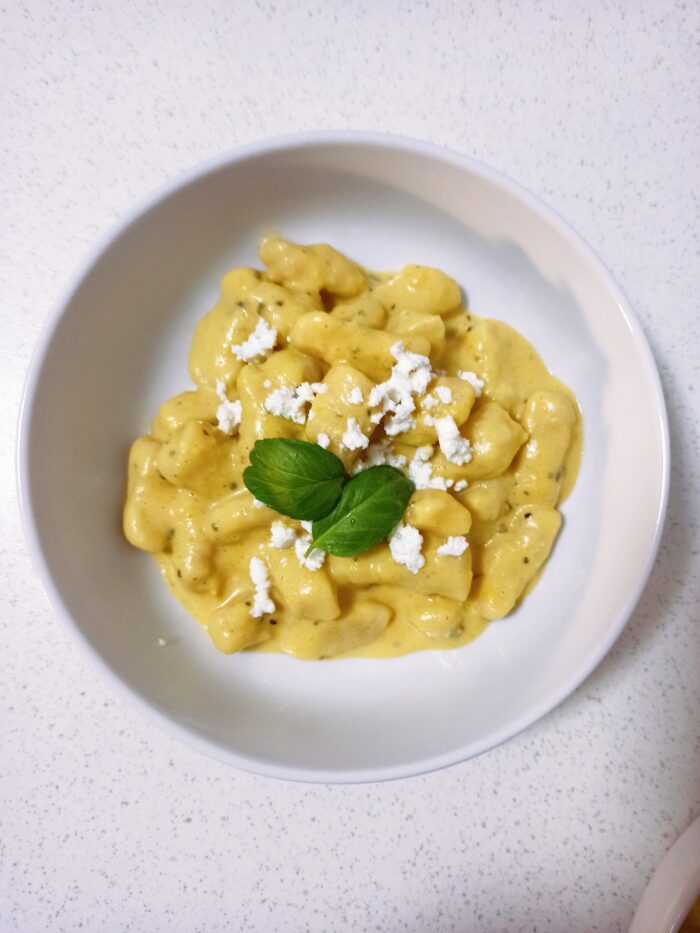 Ingredients

3 medium potatoes

1/4 small butternut squash

1 free range egg

About 2 cups flour (or more, I didn't measure it)

Salt

Fresh ricotta

Basil leaves to serve (optional)

For the sauce:

1/4 butternut squash

1 tbsp olive oil

1/2 cup coconut milk

Salt

Pepper

1 tsp dried sage

Splash milk (you can use animal or plant based)

Instructions

Peel and cube the potatoes and butternut squash. Cook till tender, drain, let cool and mash with a fork.
Add egg, salt and start adding flour gradually, forming a non-sticky dough.
Divide into 6 parts and start making long snakes from each part. Do this on a surface dusted with flour since the dough still tends to stick. Cut in about 0,5 cm pieces and roll each one over a fork.
Cook in boiling water.

The sauce:

Cook the cubed squash, remove water and mash with a fork.
Add oil, coconut milk, salt, pepper and sage.
Start adding milk according to how thick you want your sauce to be. Let cook about 5-10 minutes.
Put in blender and blend till smooth. Combine the sauce with your home made gnocchi and serve immediately with fresh ricotta cheese and basil.