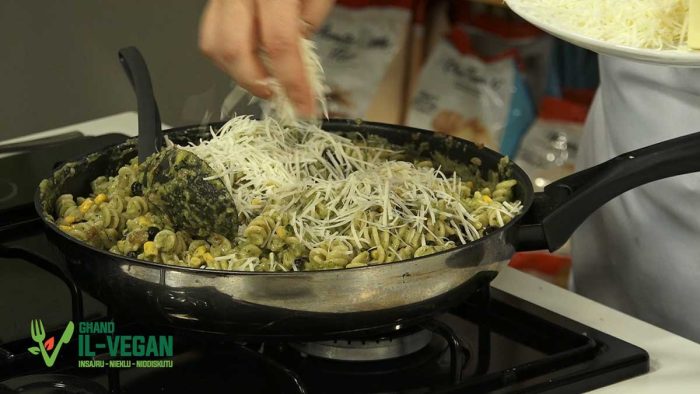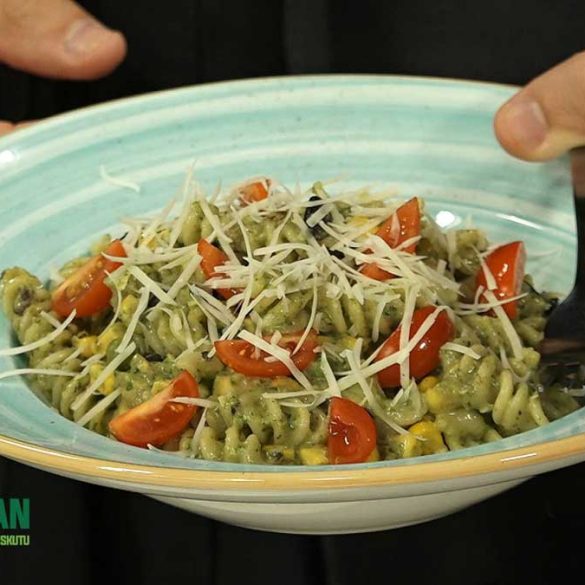 Ingredients
500g pasta nokkli/fusilli/farfalle
2 zucchini chopped
2 cups frozen green peas
1/2 cup chopped onion
4 tbsp olive oil
2 clove garlic, minced
1 1/3 cup coconut milk
2 tsp dried basil
1/2 tsp salt
2 tbsp nutritional yeast
2 tbsp lemon juice
4 cup spinach
Sweetcorn
Tomatoes
Black beans
vegan parmesan cheese for sprinkling (optional)
Garnish
pine nuts
sunflower seeds
Instructions
Cook pasta according to package directions. Drain and add back into pot.

Meanwhile, add some oil to a frying pan on medium heat. Add the onion, 1/2 the chopped zucchini and 1/2 of the frozen peas. Cook until onion becomes translucent, then set aside in a separate bowl.

Add the frying pan back to the heat with 1 tbsp oil, minced garlic and the rest of the zucchini and peas. Cook a few minutes until garlic is fragrant and just starting to brown.

Add coconut milk, basil, salt, nutritional yeast, lemon juice and spinach and simmer until spinach is wilted.

Pour into a blender or food processor and blend until smooth and creamy.

Add in the reserved vegetables to the pasta pot, followed by the sauce, tomatoes, corn and black beans as per preference. Stir until combined. Serve with salt, pepper and a sprinkle of vegan parmesan cheese.
Notes
If you don't like veg pieces, etc for picky eaters, blend all sauce and don't reserve any veg 🙂