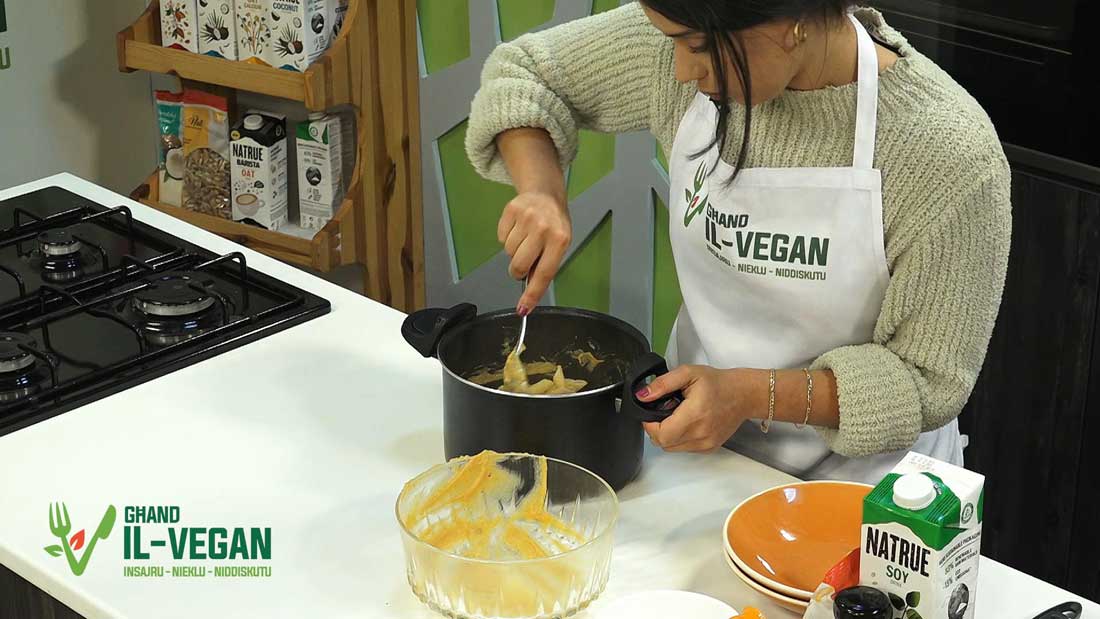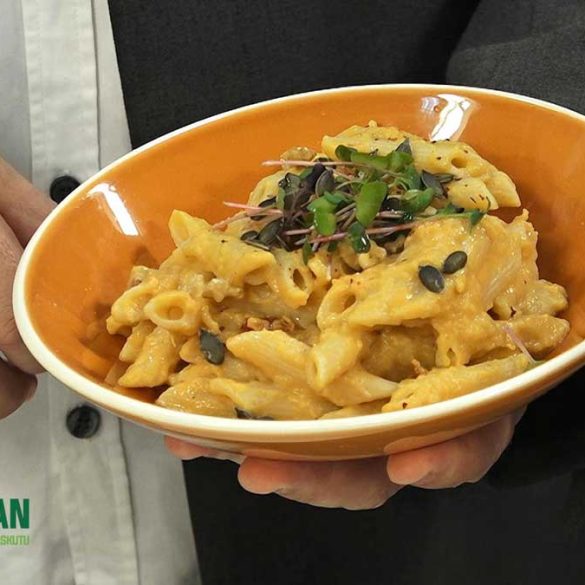 Ingredients
• 2 tablespoon olive oil
• 800g butternut squash
• 1 onion
• 3 cloves of garlic
• 2 tbsp. nutritional yeast
• 200ml unsweetened plant milk (e.g., soya)
• 1/2 teaspoon sea salt
• 10 sundried tomatoes
• Pasta of choice (e.g., penne, spaghetti, casarecce or rigatoni)
• 1 Lemon
Garnishing ideas
• Micro greens
• Fresh herbs (e.g., sage)
• Chili Flakes
• Walnuts
• Pumpkin seeds
Instructions
1. Peel the butternut squash, onion, and garlic cloves.
2. De-seed the butternut squash.
3. Chop the butternut squash, onion, and garlic into large chucks. Drizzle some oil and salt, mix.
4. Place the butternut squash on a single layer sheet of parchment paper. Roast at 180°C for about 20-25 minutes until soft and fragrant.
5. Ten minutes before the finished cooking time of the butternut squash, add the chopped onion and garlic to the oven, roast until soft.
6. Let the roasted vegetables cool down for about 5 minutes.
7. To a blender, add the butternut squash, onion, garlic, nutritional yeast, plant milk and a pinch of sea salt. Blend the ingredients together until a creamy consistency is achieved.
8. Finely chop the sundried tomatoes.
9. To a saucepan, add the pasta, butternut squash sauce and mix in the chopped sundried tomatoes.
10. Serve and garnish the meal with the desired ingredients. For instance, add micro greens, fresh herbs, chili flakes, walnuts, and pumpkin seeds.
11. Add some lemon juice to the pasta dish.
Notes
Serving Suggestions • The sauce can be served with a plate of pasta, rice, or barley. For pasta, you may opt for gluten-free alternatives that are rich in protein (e.g., lentil, pea, or chickpea) or wholegrain pasta. • To add a source of protein, red kidney beans or roasted tofu may be added to the dish.