This recipe works great for those who need a quick chocolate fix! The best part(s) of it is that it only takes minutes to make from start to finish, no oven required! Oh, and did I mention that this is a healthy, single-serve cake? Definitely not for sharing!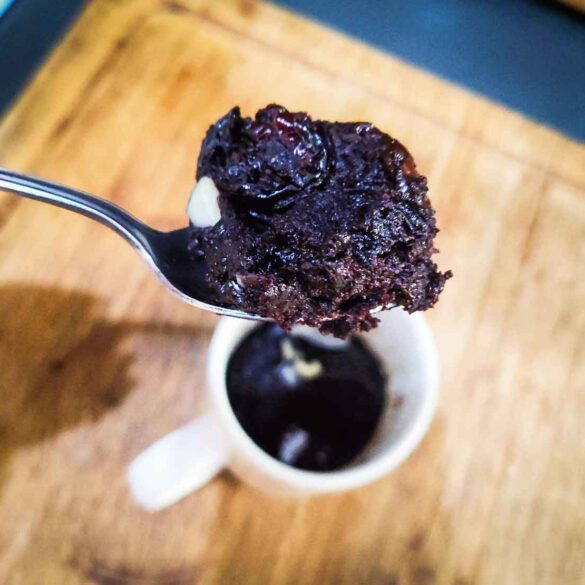 Ingredients
2 tbsp Good Earth Almond Flour
1 tbsp Good Earth Golden Granulated Natural Unrefined Cane Sugar
1 tbsp Good Earth Raw Cacao Powder
1/8 tsp baking powder
1 tbsp almond butter
2-3 tbsp Alpro Soya High Protein Chocolate Drink
1 tbsp Plamil Dairy Free Chocolate Drops
1 tbsp add-ins of choice berries, nuts (optional)
Instructions
Grease a microwave-safe mug or bowl and set aside.

In a mixing bowl, add dry ingredients and mix well.

Add the almond butter and chocolate drink and mix until a smooth batter remains. If it is too thick, add a little extra milk. (one tablespoon at a time)

Fold in the chocolate chips.

Gently pour the batter into the greased mug/bowl.

Top with extra chocolate drops/mix-ins of choice.

Microwave for 1-2 minutes, until cooked.

Allow the mug cake to cool for a minute.

Enjoy!
Notes
This recipe can be made directly into the mug/bowl, however, I noticed that the cake turns out better when ingredients are mixed in a separate bowl. With a few tweaks, this cake can also be keto-friendly by substituting the sugar for stevia or erythritol, using sugar-free chocolate chips and unsweetened milk. If you do not own a microwave, you can bake the cake in a pre-heated oven at 180 degrees for about 10-12 minutes.