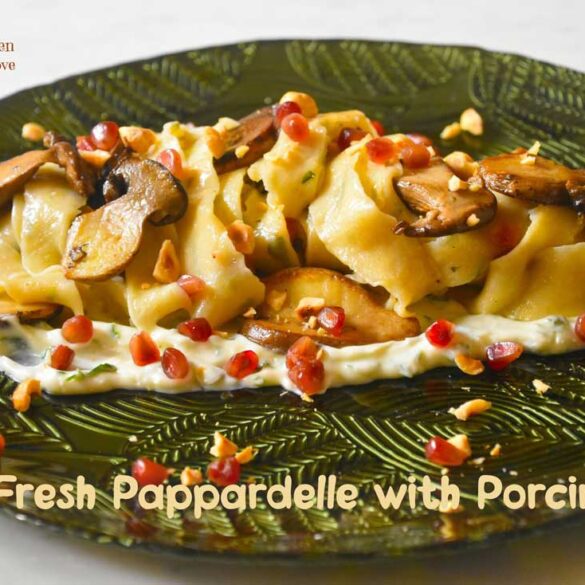 Ingredients
For the fresh pasta:
250g plain white flour
water
salt
fresh parsley, finely chopped
pinch of ground turmeric (optional, just for colour)
For the sauce:
1 tub Vegotta (vegan ricotta alternative), you can also use vegan cream cheese
250g fresh porcini mushrooms, sliced
fresh parsley, chopped
oat or soya milk-alternative - I use Alpro Oat No Sugars
salt and pepper
a knob of margarine
olive oil
white wine
pomegranate seeds
pomegranate molasses
coarsely chopped roast hazelnuts
Instructions
start with the fresh pasta by sifting the flour into a large bowl, adding the finely chopped parsley, salt and add ground turmeric to give the dough a yellowish colour (optional). Start adding water and work well until a soft dough ball forms. Cover and allow to rest in the fridge.
In the meantime prepare the base of the pasta dish by whipping up the Vegotta, parsley, salt pepper and a splash of oat/soya milk-alternative in a blender, until you get a light and airy cream. Place aside for plating.
In a frying pan heat a knob of margarine with some olive oil and when melted throw in the sliced Porcini mushrooms. As soon as they get a nice colour, add in a splash of white wine and cook it out making sure that the alcohol has evaporated.
Add finely chopped parsley and season to taste with salt and pepper
Prepare a large pot of salted water and whilst it's waiting to boil you can prepare the pappardelle.
Bring out the dough from the fridge, lightly flour the worktop and flatten the dough with a rolling pin or pass it through the pasta maker up to thickness 3 or 4.
Once you have long pasta sheets of about 20 to 25cm each, fold them over and cut into thick strips to form Pappardelle.
Transfer the pappardelle into the boiling water and cook for just 2 to 3 minutes until the flour can no longer be tasted.
Drain the pappardelle and mix them with the Porcini mushrooms in the frying pan, coating well.
Decorate the plate with the whipped creamy ricotta-alternative, top with the pappardelle and mushrooms, and sprinkle pomegranate seeds and crushed hazelnuts to add texture and sweetness. Drizzle pomegranate molasses over the pasta for an extra layer of flavour.