Easy peasy oatmeal cookies you will love! Especially when you have no ripe bananas at home. Just a few simple ingredients and add ins are totally up to you. Great and guilt-free treat.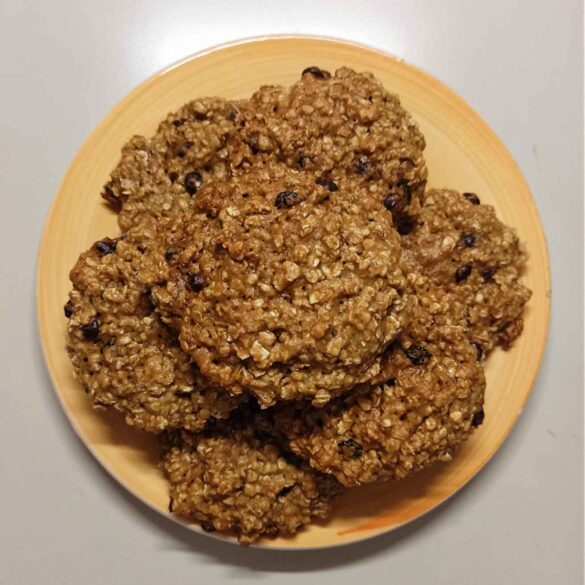 Ingredients
2 cups oats
1 cup oat flour
1/2 cup almond flour
2 flax eggs (eggs for vegetarian version)
1/2 cup brown sugar
1/3 cup maple syrup
1/4 creamy peanut butter
1/4 cup plant milk - I used soya
1 tsp baking soda
1 tsp vanilla
Handful of chocolate chips, raisins, nuts, etc.
Instructions
Start with making your flax eggs if you are making vegan version of the cookies. Mix 2 tbsp flax meal with 4 tbsp water and let sit for 5 minutes.
In the meantime, combine all the dry ingredients. Then add peanut butter, maple syrup, vanilla, plant milk and your flax eggs (or normal ones).
Lastly, mix in whatever you like. I used chocolate chips this time, but it also works with any dried fruit (raisins, blueberries, cranberries, dates, etc) or nuts (walnuts, peanuts, almonds, etc). The choice is yours 😉
Spoon 12 cookie onto a baking tray and bake at 180°C about 20 minutes. Let cool and serve.