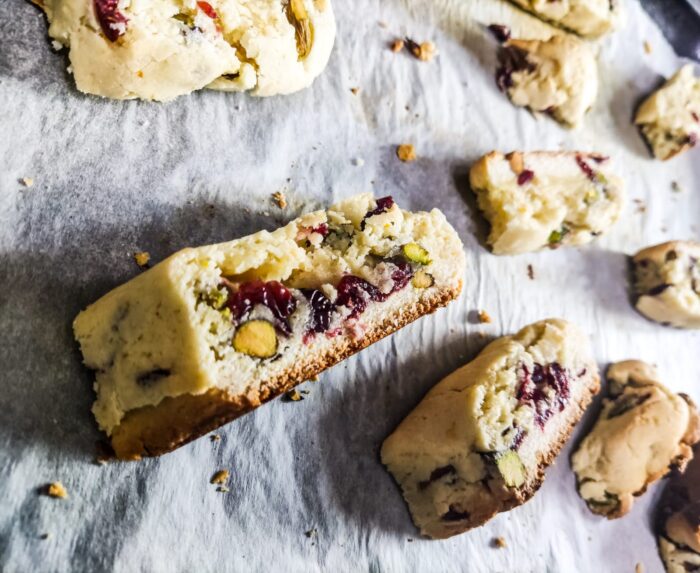 With Summer still not yet in sight, we can still wiggle in some indulgence on a cold wintery afternoon!
My ideal treat would be some biscotti – crunchy, twice-baked Italian biscuits that are best eaten with a cup of coffee or tea for dunking.
These vegan biscotti are egg-free, crunchy, full of flavour and easy to make. They would also make great gifts as they keep for quite a while, but make sure that they are sealed up in an airtight jar.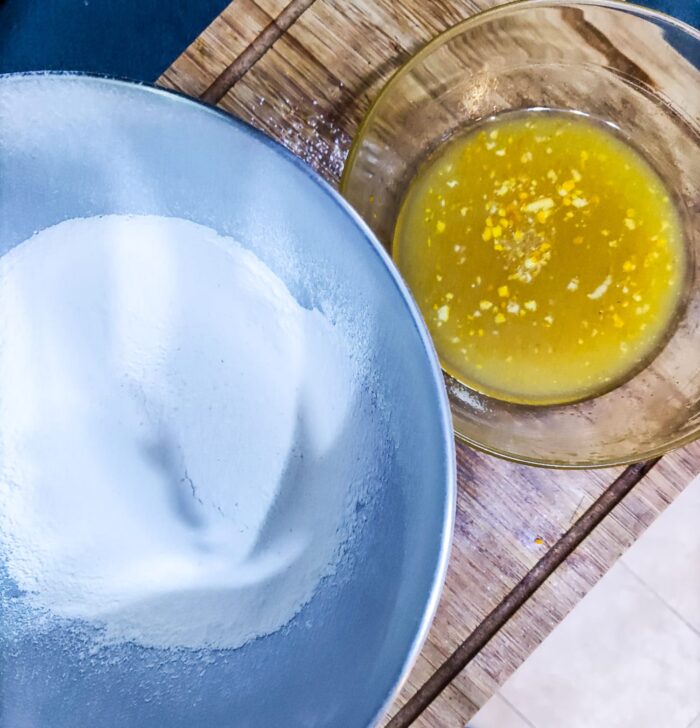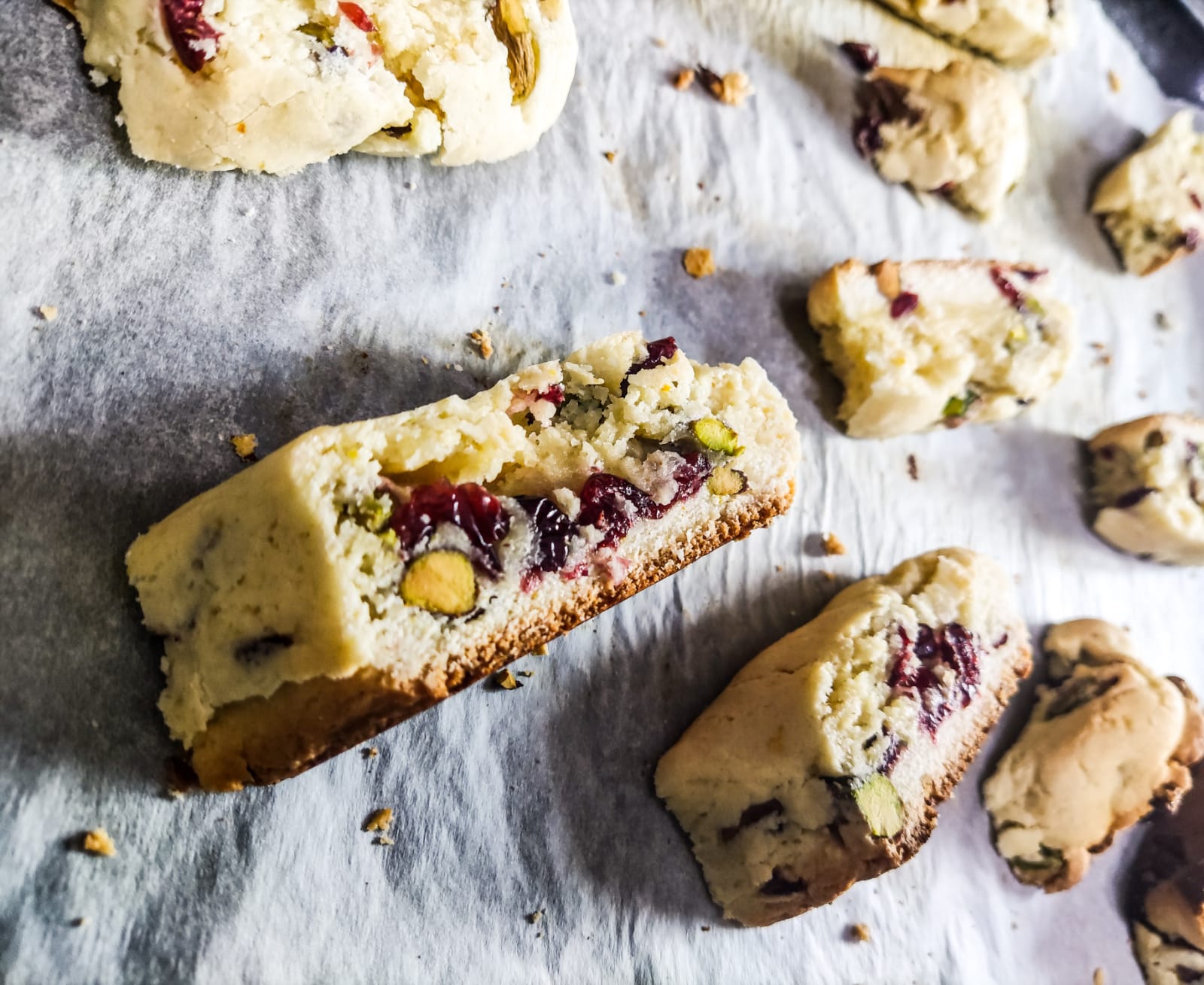 Ingredients
180g sugar
80ml unsweetened soy milk, room temperature
2 Tbsp melted coconut oil (or another neutral oil)
finely grated zest of 1 lemon or orange (optional)
1 tsp vanilla extract
275g plain (all-purpose) flour
1 tsp baking powder
1/4 tsp salt
50g unsalted pistachio kernels
65g dried cranberries
Instructions
Preheat the oven to 180°C. Line a baking sheet with baking paper.
In a large bowl, whisk together the sugar, soy milk, melted coconut oil, zest and vanilla extract until well combined.
In a separate bowl, sift together the flour, baking powder and salt.
Add the dry ingredients to the wet and stir until it forms a rough dough.
Add the pistachio kernels and cranberries and mix until they are well distributed. Use your hands to bring it together into a ball.
Divide the dough into two even pieces and shape each one into a log about 5cm wide.
Place them well spaced apart on the baking sheet and use your hands to slightly flatten them and square off the edges for perfectly shaped biscotti.
Bake the logs for 30-35 minutes until they are firm and lightly browned.
Remove the logs from the oven and set aside to cool for 15 minutes. Turn the oven down to 140°C.
Once the logs have cooled, use a very sharp serrated knife to gently cut them into diagonal slices about 1 to 1 ½ cm wide.
Lay the slices cut side down on the baking paper and bake them to the oven for 8 minutes. Turn the slices over and bake for another 8 minutes.
Remove from the oven and let them cool.
Once cooled, store in an airtight container.
Notes
Make sure that the milk is room temperature, or even lukewarm, otherwise you risk the coconut oil re-solidifying. Don't try slicing the logs before the 15 minutes cooling time is up otherwise they will be hard to slice and crumbly.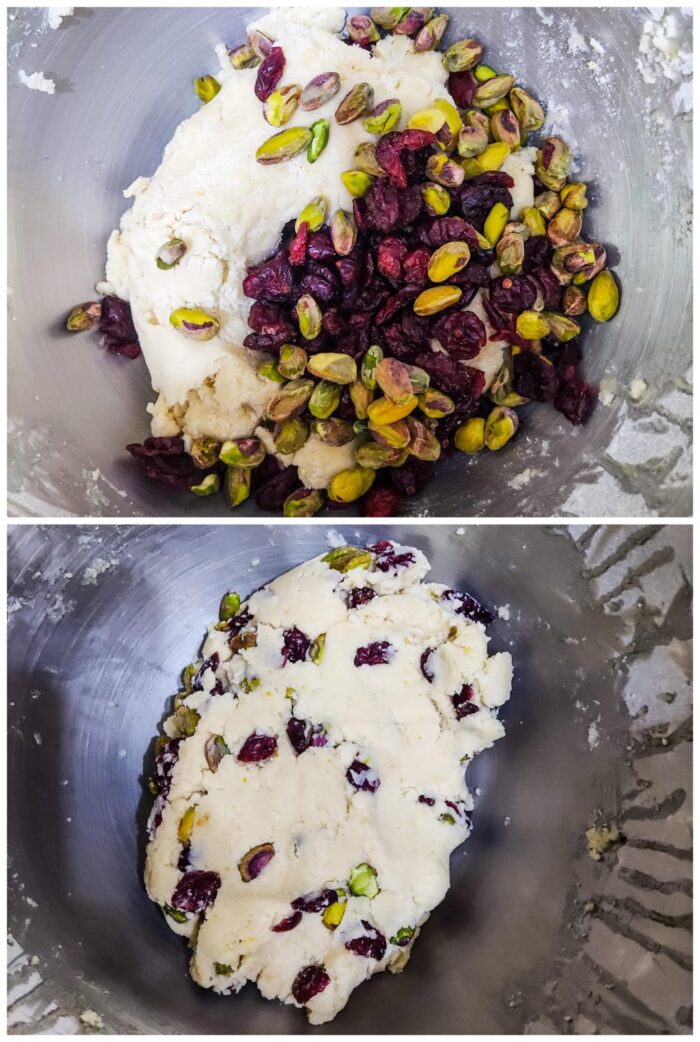 Biscotti are tricky to slice neatly, and they will crumble a bit no matter what you do. You need to make sure that you use an incredibly sharp serrated knife, and don't put too much pressure on the biscotti – try and gently 'saw' through the crust.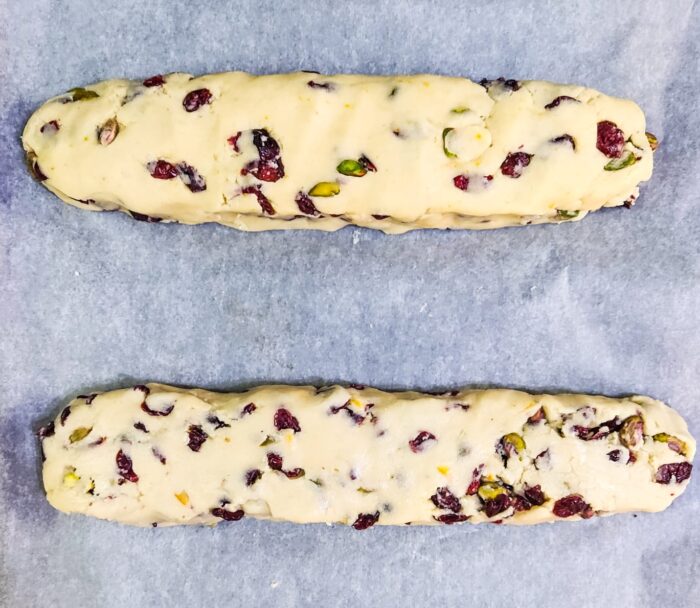 Side Note
If you want softer biscuits you can reduce the second bake time a little; and if you want really super crunchy ones you can increase it a bit or leave them in the oven after you turn it off.
You can also experiment with different fruit and nuts as you please.
Enjoy!