Coconut flour is rich in protein, fiber and fat. Iron is the primary mineral in coconut flour making it a good option for people following a plant-based diet who are concerned about getting enough iron.
This versatile flour is made out of finely ground dried coconut meat. It is gluten free, has a lower glycemic index than traditional flours, and its rich texture and natural sweetness makes it great for baking.
This cookie recipe tastes like a cross between a fluffy coconut macaroon and a chocolate chip cookie, and it's so easy to make with just 5 ingredients!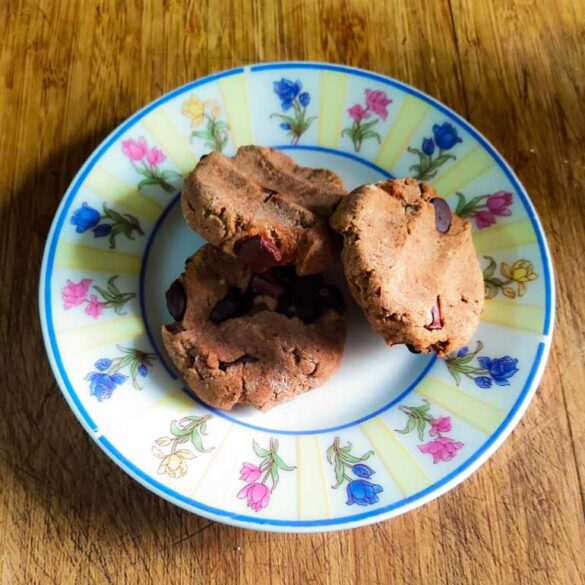 Ingredients
1/3 cup Good Earth Coconut Flour
1/8 tsp salt
2 1/2 tbsp maple syrup/agave/liquid sweetener of choice
2 flax eggs
1/4 cup melted Good Earth Organic Extra Virgin Coconut oil
1/2 cup Plamil Dairy Free Chocolate Drops
Instructions
Preheat oven to 160 degrees Celsius.
Prepare the flax eggs by mixing 2 tablespoons of ground flaxseed with 6 tablespoons of water. Mix well and set aside for a couple of minutes till it thickens.
Stir all ingredients together in a mixing bowl. It will look a little bit liquid at first, so keep stirring until it suddenly thickens into cookie dough.
Roll into small balls, smush with hands into cookie shapes and put on a lined baking sheet. (You can also make a giant-sized cookie by pressing the dough into a small baking dish).
Bake for 20 - 22 minutes on the oven's center rack.
They will be very delicate when you take them out of the oven, so let the cookies cool completely and they firm up as they cool.
Notes
These cookies are best stored in an airtight container in a cool spot, such as the fridge. This because coconut flour absorbs liquid like a sponge. With that said it's also good to note that coconut flour can almost never be used as an equal substitution in baked goods calling for other flours, so if you want to test out other recipes, it's best to find recipes that specifically call for it instead of trying to substitute coconut flour for almond flour or all purpose flour. This recipe can also be keto friendly if a low-carb liquid sweetener is used.