Apricot season is here, so let's make some vegan apricot crumble cake! It is quite an easy recipe and the cake is soft with the right amount of crumble. The apricots add a nice fruity kick so it's suitable for the summer heat. Made with all the good ingredients you can make yourself a healthy dessert with a minimum effort.
Video recipe is also available on VeggyMalta Facebook page.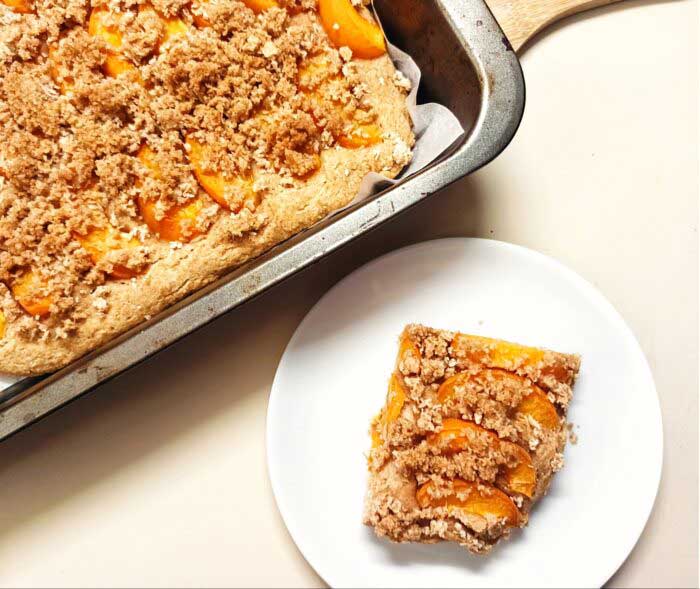 Ingredients
200g Good Earth spelt flour
50g Good Earth coconut flour
60g brown sugar 30g cornstarch
1 and 1/2 tsp baking powder
Pinch salt
50g melted coconut oil
1 tbsp lemon juice
350ml plant milk - I used soya
5-6 apricots
For the crumble:
50g Good Earth spelt flour
30g shredded coconut
25g brown sugar
40g coconut oil
Instructions
In a medium bowl mix together flours, corn starch, baking powder and salt. Add coconut oil, lemon juice and milk  and mix to create a dough.
Place it onto a baking sheet lined with parchment paper and use spatula or simply your hands to press the dough towards the sheet, about 1 cm thick.
Wash and slice the apricots thin. Place them evenly on top of the prepared dough.
To make crumble: Mix all the ingredients for the crumble together and toss it all over the cake.
Bake at 180°C about 40 minutes.
Nutritional information (1/9):  233 kcal   30gC, 4gP, 11gF