This recipe really reminds me of the classic condensed milk coconut balls we used to do when we were kids. I decided to give this childhood treat a healthier twist by substituting the coconut milk for the condensed milk, saving us quite a bit of sugar!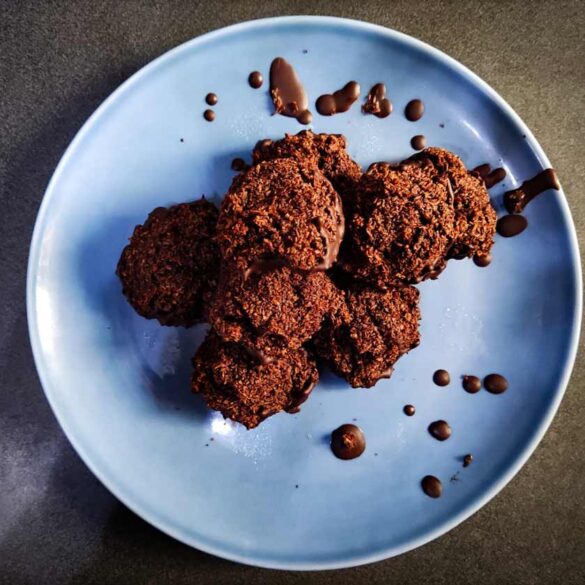 Ingredients
1 tbsp. Good Earth Oatmeal
1 1/2 tbsp. Good Earth Raw Cacao Powder
1 cup Good Earth Desiccated Coconut
1/2 cup + 1 tbsp. Alpro Barista for Professionals Coconut Milk
1/4 cup Agave or maple syrup
1/4 tsp vanilla extract
1 tsp Good Earth Organic Extra Virgin Coconut Oil
100g vegan dark chocolate of your choice
A pinch of pink Himalayan salt
Instructions
Preheat oven to 180 degrees Celsius.
Stir all ingredients together.
If mixture is not sticky, gently heat on the stove until thick enough to scoop onto a baking tray. (I used a tablespoon, but an ice-cream scooper will make even-sized cookies).
Bake on the center rack for 15 minutes. Let cool completely before taking off the tray.
Melt some vegan chocolate with a teaspoon of coconut oil, and dip the cookies in the melted chocolate (I wouldn't skip this step!)
Notes
This recipe can also be no-bake - instead of baking them in the oven for 15 minutes, you can also pop them in the fridge for a fudgy and gooey treat! These cookies are also kid-friendly as the ingredients are minimally processed and are a healthier alternative to other high-sugared processed snacks. Enjoy!