This is a traditional recipe we make in my country. Apart from that we use eggs for coating and loads of oil, because it is usually fried. I have made it much healthier by baking it instead of frying and vegan by excluding eggs. It is an easy recipe which will not take much of your time to prepare. You can also play with side dish and enjoy it with whatever you like, such as potatoes, rice, salad etc. I personally love it with baked potatoes and vegan mayo.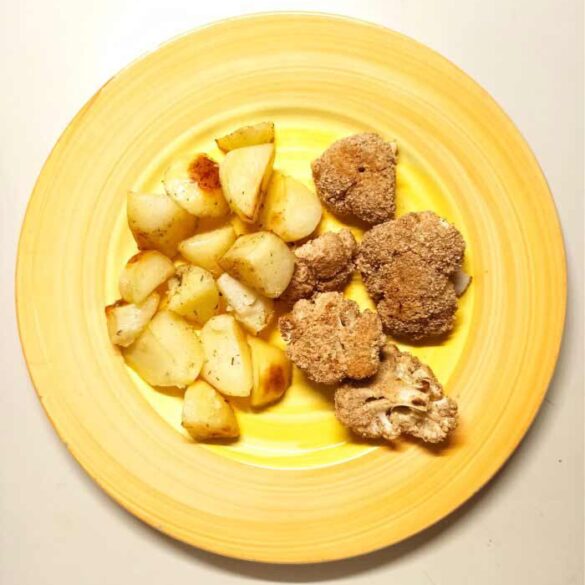 Ingredients
1 head cauliflower
1/2 cup flour
1 tsp salt
1/2 tsp garlic powder
1/2 cup breadcrumbs
Olive oil in spray
Instructions
Tear your cauliflower into medium sized florets. Rinse them and let dry.
Prepare the coating by mixing flour, salt and garlic powder with about 1/3 cup water. Add water gradually, until a semi-thick mixture is formed. You may need to add more or less water.
Coat each floret in the flour mixture and cover in breadcrumbs straight away. Place onto a baking sheet lined with parchment paper. 
When all of the cauliflower is on the baking sheet, spray it over with some olive oil in spray. If you do not have spray, you can drizzle it gently with regular olive oil.
Bake at 200°C about 20 minutes and flip halfway.
I served it with baked potatoes which I baked at the same time as the cauliflower and some vegan mayonnaise. It can also be enjoyed with a side of fresh salad or whatever you desire.