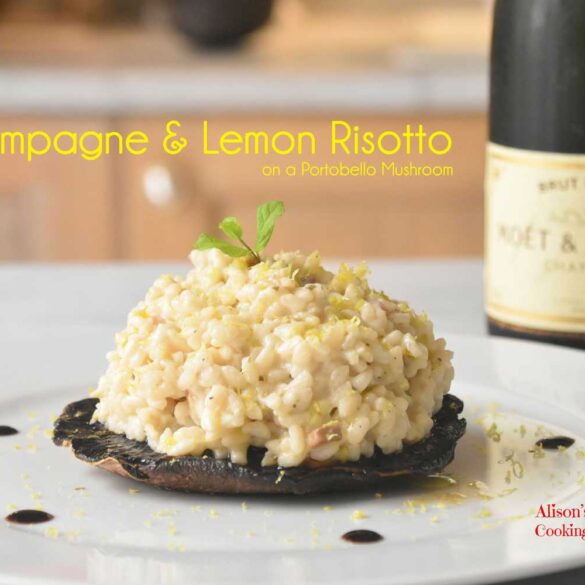 Ingredients
2 cups Arborio or Carnaroli rice, whichever you prefer for a creamy risotto
2 shallots, finely diced
1 garlic clove, finely diced or pureed
1 lt vegetable stock, simmering (I use Herb Stock Pots)
2 portobello mushrooms (1 per person)
salt and pepper
Alpro Cooking Cream or Elmlea Plant Based Cream
zest and juice of 1 big lemon
Champagne (1 cup for the recipe, the rest to drink whilst cooking!)
knob of margarine or Vegan butter (I use Flora Salted)
olive oil
Alternative to grated cheese (I use Parveggio)
balsamic glaze
Instructions
prepare the risotto as per classic method: melt a knob of butter and some olive oil in a pan, sautee the shallots and later add the garlic (to avoid burning it).
add the rice kernels and mix well so that it's coated in the fat
once the rice is toasted, add the champagne and simmer until the liquid has almost evaporated, just a few minutes.
Add the first few ladles of simmering stock and stir until almost completely absorbed
continue adding a few ladles at a time, until the stock is absorbed and the rice is almost cooked through but still firm. It should take between 20 to 30mins maximum
meanwhile you can brush the portobello mushrooms with a mixture of olive oil/balsamic vinegar/salt/pepper/thyme just enough to coat them all around and place them on a baking sheet and bake in a medium high oven for 10 minutes, just to cook them through and warm them up.
continue cooking the risotto by stirring in the lemon zest and lemon juice, a knob of butter, Parveggio, Alpro or Elmlea cream, salt and pepper to taste.
Place one Portobello mushroom per serving plate, spoon a generous amount of risotto onto each mushroom and garnish with lemon zest and olive oil, and a few drops of balsamic glaze on the plate. The final touch should have been shavings of white truffle but did not find any in stock 🙁
Serve immediately to enjoy the tastes to the full!