We all love a moist sweet carrot cake. How about healthy and vegan version of it? Using spelt flour which has lots of important vitamins, walnuts for some crunch and big chunks of pineapple. You can enjoy it with some vegan yogurt or just like that on it's own.
Video recipe also available on VeggyMalta Facebook page 🙂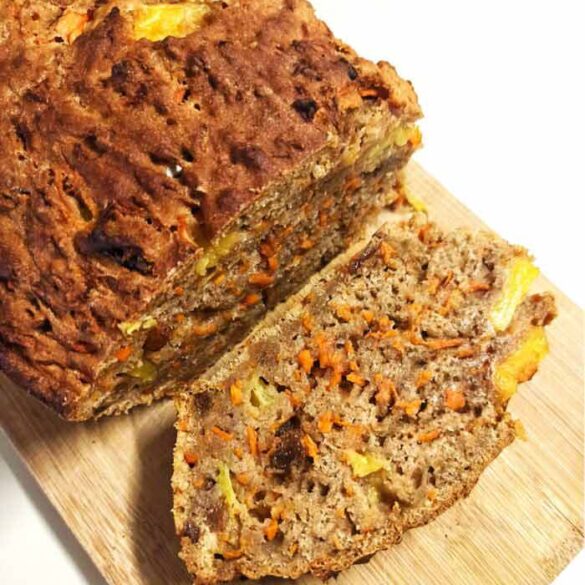 Ingredients
300g carrots
160g diced pineapple - I used canned
1 mashed banana
Handful of walnuts
Handful of raisins
70g maple syrup or honey
200ml plant-based milk - I used Valsoia soy milk
3 tbsp pineapple juice from the can
100g all-purpose flour
200g Good Earth spelt flour
1 and 1/2 tsp baking powder
Instructions
Peel and shred your carrots into a large bowl. I used 5 small carrots.
Add pineapple (you can use canned or fresh one), mashed banana, raisins and walnuts - crush them with your hands or chop roughly. Then add maple syrup/ honey, milk and pineapple juice.*
Mix to combine and fold in both flours and baking powder.
Transfer to a loaf tin with paper or silicone one without paper. Bake at 180°C for about 45 minutes.
Let cool and enjoy!
Notes
*If you were using fresh pineapple instead of canned one, you can substitute pineapple juice for lemon juice.