Cereal bars are a popular snack option when you're hungry, short on time and quickly need something to quiet that rumbly tum. However, store-bought cereal bars have a lot of unpronounceable ingredients, sugars and additives, so here is a very easy recipe for you to make in no time!
This is a no-bake recipe and it only requires 5 minutes of your time! These bars also make a good quick breakfast option and a great pre-workout snack.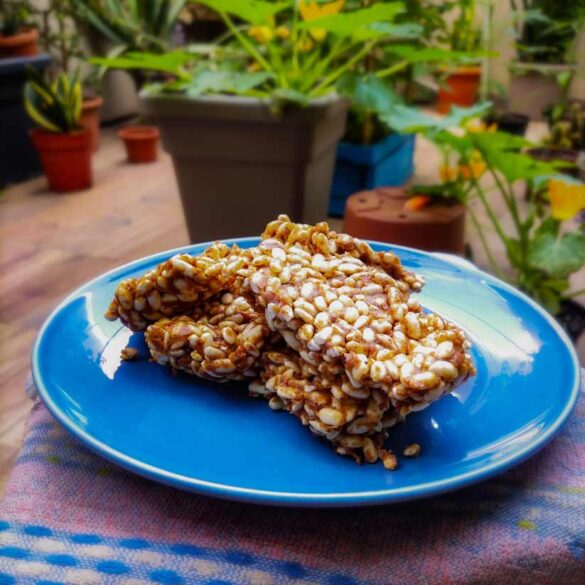 Ingredients
2 cups Puffed rice cereal
1/4 cup (60g) Maple Syrup
1/2 cup (120g) Whole Earth Smooth Almond Butter No Added Sugar
Instructions
Line a square-shaped dish with parchment paper and set aside. 
In a large bowl, stir well the almond butter with the maple syrup. 
Combine the puffed cereal with the almond butter mixture and stir until completely coated.
Press evenly and firmly into the lined dish using the back of a small bowl.

Refrigerate for at least one hour, or even up to overnight. The longer it sits in the fridge, the more success you will have with cutting them into bars without crumbling.
Notes
You can try adding in some extra mix-ins of your choice. I actually enjoy making these with a sprinkle of salt to balance out the sweetness of the maple syrup. You can also use crunchy peanut butter for more texture and crunch instead of almond butter. It is important to note that if you find the mixture a bit 'dry', and the cereal is not coated well enough, plop in an extra mixture of a tablespoon of nut butter and half a tablespoon of maple syrup. Mix them together before combining with the cereal mixture. These bars are served best cold from the fridge, otherwise they will crumble and lose their crunch. Store them in an airtight container to avoid having soggy bars. Enjoy!