Chocolate chip cookies in vegan version! Everyone loves cookies, although when you are vegan you cannot often get them in the store. Nevertheless, they are easy to make (and eat), so prepare your baking kit and let's get to it! I made these using half almond flour and half all-purpose flour (you can use oat flour), however if you use gluten-free (oat) flour you will get vegan gluten-free cookies 🙂 Contains lot of healthy fat and 5g protein a piece.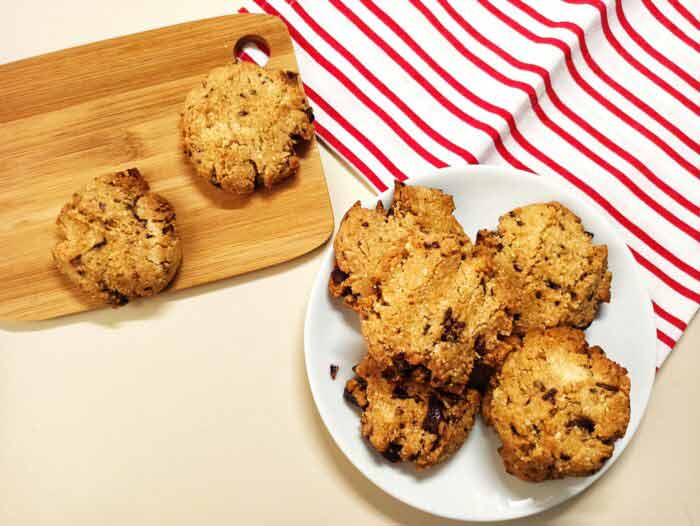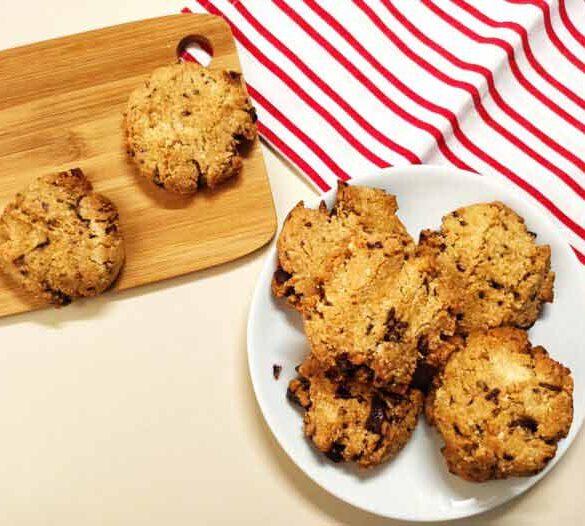 Ingredients
1/3 cup brown sugar
1 tbsp flax seed
1/2 tsp vanilla extract
3 tbsp Alpro unsweetened soy milk
1/3 cup melted coconut oil (or sunflower oil)
1 cup Lamb Brand almond flour
1 cup Good Earth oat flour (or all-purpose)
1/2 tsp baking soda
Pinch of salt
Vegan chocolate chips
Instructions
First mix together sugar, flax seed, vanilla extract and soy milk and combine.
Then add oil and mix well.
Start adding almond flour, oat flour, baking soda and salt.  Mix together, you should get a crumbly dough.
Stir in vegan chocolate chips, or in my case chopped vegan dark chocolate and start taking about 1 tablespoon of dough and form it into a ball shape with your hands. Place the balls onto a lined baking sheet.
You should get about 8 equal balls. Use your hands to flatten each of them.
Bake at 180°C about 10-12 minutes.
Nutritional information (1 cookie):

285 kcal  23g Carbs, 5g Protein, 20g Fat (of which 3g saturated)
Video recipe is also available on VeggyMalta Facebook page 🙂