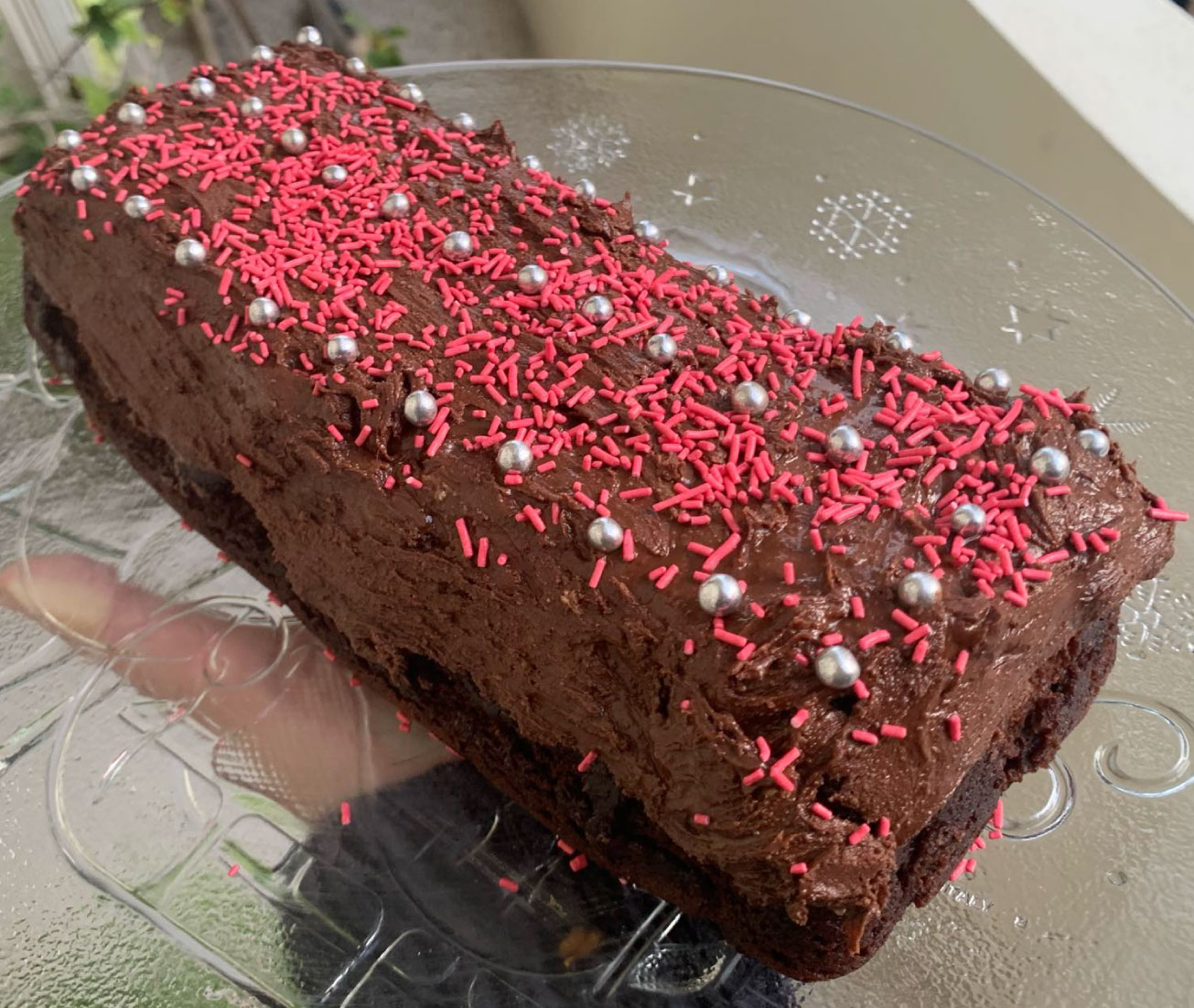 This vegan and gluten-free chocolate loaf cake is the perfect dessert to bring with you to a Christmas party or any gathering. It's rich and chocolatey with a peanut butter ganache. The best part is that the cake fits with nearly everyone's dietary requirements and would surely be a hit at the Office Christmas Party or School Christmas Party or literary any gathering that calls for cake.
P.S if you are nut-free, you can always omit adding the peanut butter into the chocolate frosting or substitute with a seed butter, like sunflower butter.
Disclaimer: I only tested this cake using the Orgran All Purpose Plain Flour and the Orgran Egg Replacer Powder so I do not know how the cake would turn out if you replace the flour and egg replacer.
Ingredients:
For the Cake you will need:
1 1/2 Cups White Sugar
1/2 cup vegan butter (I used Stork Original for Baking Block)
1/4 Teaspoon Salt
2 Teaspoons Vanilla Extract
3 Teaspoons Gluten-Free Baking Powder
2/3 Cups Unsweetened Cocoa Powder
3 Teaspoons of Orgran Egg Replacer Powder with 90 ml of water – equivalent to 3 whole eggs
1 cup of Orgran All Purpose Plain Flour
If you find the batter too wet add another 1/4 cup flour but 1 cup was enough for me
3/4 cup plant-based milk – I used Cashew Milk
For the Frosting you will need:
1/2 Cup Creamy Peanut Butter
1/2 Cup Vegan Chocolate Chips
Splash of Soya Cream
Instructions:
1. Preheat oven to 180 C
2. Grease a loaf-shaped pan or round pan with some butter or non-stick spray and set it aside.
I used a 24cm by 10.5cm by 5cm loaf pan.
3. In a large bowl beat the sugar and the butter together until light and fluffy and well blended.
4. Add the salt, vanilla extract, baking powder and cocoa powder to the butter and sugar mixture. Mix on low speed until well combined.
5. Now come the "eggs". You need to add one "egg" at a time.
What I did was add 1 teaspoon of the Orgran Egg Replacer Powder and 30ml of Water into 3 separate glasses to create 3 eggs. Add one "egg" in and beat well. Repeat another two times.
6. Following this step, you will need to add the flour and milk. I did this in 1/4 cup intervals. Every time you add mix well. Repeat till all the flour and milk is finished.
I only used 1 Cup of Orgran All Purpose Gluten Free Flour but if you find your mixture to be too wet you can add an additional 1/4 cup of flour. Make sure you do not over mix in this step.
7. Pour the mixture into whatever pan you decide to use.
8. Bake in the oven for 65 minutes or until a toothpick inserted into the centre comes out clean.
I needed to leave my cake in for an additional 10 mins – since ovens vary I would start checking at the 60-minute mark and then check it every 5 minutes till the toothpick comes out clean.
9. Remove from oven. Leave the cake to cool in the pan for 5-10 mins and then transfer onto a plate or serving tray and allow to cool completely.
10. While cooling make the frosting.
11. For the frosting add the chocolate chips and peanut butter with a splash of soya cream ( I used the Alpro Light Cooking Cream) in a heat-proof bowl.
I microwaved in 30-second intervals till the chocolate and peanut butter where melted and combined well – you could also do it over a pot of hot water on the stove.
12. When the cake has cooled completely pour your ganache frosting over the cake and allow to set. You can now decorate as you please.
I used some red sprinkles and silver decorations on mine.
I hope you enjoy the recipe and if you make it let me know and tag me on Instagram @_nevena.aleksic_