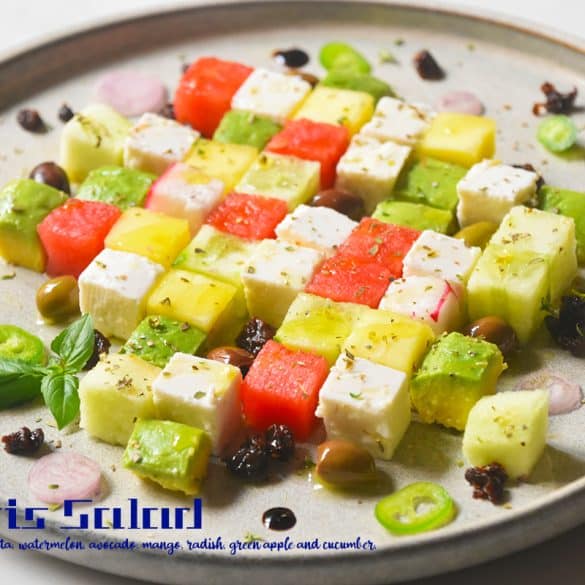 Ingredients
Feta Alternative (plant-based) I love Greenvie's Greek Style with Dried Oregano & Olive Oil
Watermelon
Radishes
Mango
Cucumber
Granny Smith apple
Avocado
Taggiasche Olives (or any olives of your choice like Kalamata or Leccino)
Sun-dried tomatoes (I buy Sicilian Capuliato, finely minced sun-dried tomatoes in olive oil)
Extra virgin olive oil
Balsamic Glaze
Instructions
It's a very simple and fun but laborious job to cut the feta and all fruits and vegetables into 2cm cubes. I helped myself with a 2cm square cutter to have nice square shapes. The quantities of the ingredients depend on the number of persons you need to serve. Since there is a lot of 'waste' after cutting out the shapes, you will require more ingredients than usual.

Arrange on a plate, and add olives, drops of Balsamic Glaze, sun-dried tomatoes, finely sliced shallots and green jalapeño. Sprinkle dried oregano and extra virgin olive oil, but you can also prepare a vinaigrette of your choice.

Wow your guests with this picture-perfect starter with a great fusion of tastes and flavours.

PS: with the leftover pieces of fruits and veggies, I made myself an ugly but tasty salad for lunch! Nothing was wasted.