Saturday lunch in honour of Malta Meat Free Week. My recipe for day 6 is Spaghetti Aubergine M̶e̶a̶t̶balls, worth the try as the process is easy and simple. To minimise waiting time you can even prepare the balls a day or 2 ahead and leave them in the fridge.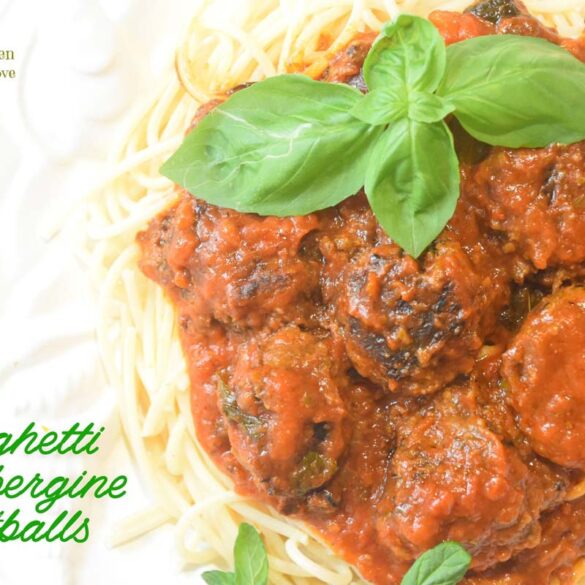 Ingredients
To make 20 small meatballs:
2 medium aubergines
1 yellow onion
5 to 6 garlic cloves
sunflower oil
ground spices (cumin, coriander, nutmeg)
salt and pepper
Worcestershire sauce
Tabasco Sauce
fresh parsley, basil and mint leaves
slices of bread (sourdough and stale work best)
breadcrumbs
lemon zest
tomato sauce (for 2 persons, I used 1 jar x 500g)
spaghetti (125g per person, depending on your portions)
Greenvie Foods Parveggio (grated cheese-alternative)
Instructions
1. Slice 2 aubergines in half and place in an oven-proof dish. Score the flesh with a knife to make a criss-cross pattern. Put about 4 to 5 garlic cloves in between the cuts, and brush the aubergine faces with a mixture of sunflower oil and spices like ground cumin, coriander and nutmeg + salt and pepper to give them an Indian flavour. Bake in a hot oven for the spices to be infused until the flesh is just cooked but not too soft and allow to cool completely.

2. Once the aubergines are cold, transfer into a blender with skin and all, add 1 yellow onion, 1 slice of bread (stale is fine), chopped parsley and mint, lemon zest. Blend well until the consistency is quite solid. If it's still too soft, add more stale bread/breadcrumbs.

3. Form small balls with your hands (use a small ice-cream scoop to retain the same size) and place on a tray. Cover and refrigerate for an hour until the balls firm up.

4. To cook the balls- you can either place them in a hot oven to bake evenly (for a healthier version), or you can shallow fry them in a pan until they form a crust on the outside but remain soft inside. 5. Prepare your tomato sauce by frying 2 cloves of garlic to infuse the sunflower oil without burning them. Add your favourite tomato sauce or make your own sauce with fresh tomatoes, add a splash of Worcestershire sauce and Tabasco sauce, throw in fresh basil and mint leaves, and allow to simmer for 30mins until the sauce thickens. Season to taste. 

6. Cook your spaghetti and in the meantime transfer the aubergine balls into the tomato sauce to absorb the flavours. Remove the garlic cloves.

7. Plate the spaghetti on a serving dish and top with the sauce.

8. decorate with fresh basil leaves and sprinkle plant-based grated cheese alternative (I use GreenVie Foods Parveggio).
Pics by me
#alisonskitchen #cookingwithlove #plantpower #spaghettinomeatballs #maltameatfreeweek