Red lentils are high in protein and fibre which makes it a great meat alternative. They are also packed with vitamins such as vitamins B, zinc, magnesium and potassium. This recipe is a great choice when you're looking for a healthy meal. It is vegan, gluten-free and low-carb. Trust me, it is worth the effort. It became one of my favourites right after the first time I made it 🙂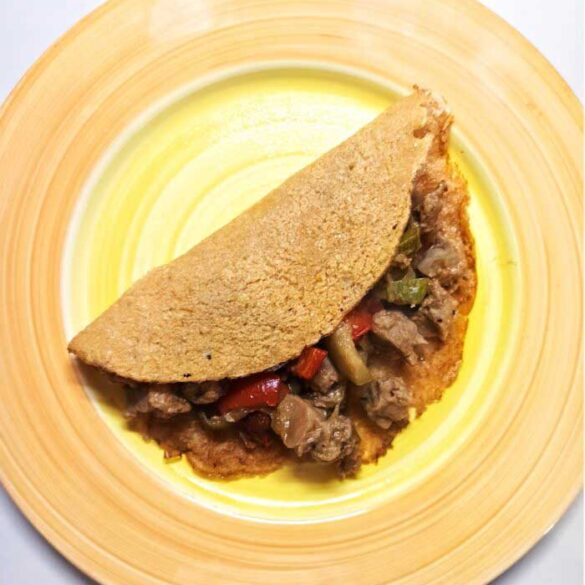 Ingredients
For the pancakes:
1,5 cup dry red lentils
1 tsp salt
1/2 tsp oregano
For the filling:
1/2 onion
1 big zucchini
2 bell peppers
1 cup dry soya cubes
1/2 cup coconut milk
1 tbsp vegetable oil
Spices and herbs*
Instructions
Put the lentils in a bowl, cover with water and let them soak for about 4 or 5 hours.
When they are soft and you are ready to prepare the meal, cut your vegetables into small pieces/cubes. Pre-heat the oil in a deep frying pan, adding first onion, then zucchini and peppers. Cover the soya cubes in hot water and let stand for the time being.
Pour about 1/2 cup water to your vegetables and let cook, covered.
In the meantime, start preparing the pancakes. Simply blend the soaked lentils with water, salt and oregano, creating a pourable batter.
Start cooking them on a pan brushed with a bit of oil - one big scoop of batter at a time. Flip halfway as if making regular pancakes. I made 6 pancakes out of this amount of batter.
Whilst doing this, you can proceed with your vegetable filling, when the vegetables is half-tender, squeeze the water out of soya cubes and add them to the pan. Pour in the coconut milk (some more water too) and spice it up 🙂 *I used quite a lot of herbs and spices, such as oregano, thyme, basil, smoked paprika, garlic powder, salt and pepper. Generally, you can throw in whatever you like. Cover and let cook till the vegetables is tender and the liquid is reduced, then turn off.
To serve, put 1/6th of the filling onto one half pancake and fold. 2 filled pancakes make one portion. Enjoy!