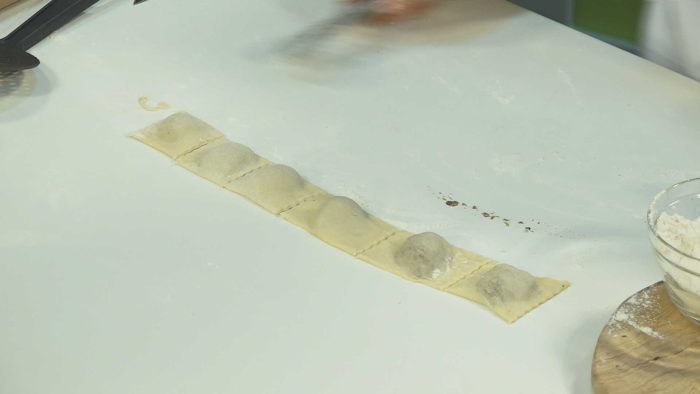 Ingredients
Dough:
300gr flour
75gr Chickpea flour
1 Tbs olive oil
Pinch of salt
Water to bind
Filling:
250g Oyster mushrooms
25g Vegan Butter
3 garlic cloves
½ cup Red wine
Salt and Pepper
Sauce:
25g Vegan Butter
2 Garlic cloves
½ an onion
½ cup Soy cream
Walnuts, roasted and chopped for garnish
Instructions
For filling: Tear the mushrooms into strips and chop the garlic. Heat a pan up on medium heat and add a generous knob of butter. Add mushrooms. Allow the mushroom to cook, stirring as little as possible. When the mushrooms have browned nicely, add the garlic and sauté until fragrant. Add the wine and reduce until you still have some sauce. Allow to cool completely. When cooled blend until desired consistency is reached.

For Sauce: Fry the garlic and onions in the butter For Dough: Mix the dry ingredients in a mixer until combined and then add the water slowly until a smooth ball forms. Place in a plastic bag and allow to rest in the fridge for ten minutes.

To make Ravioli: Roll out the pasty until it is translucent, around 2mm thick. Using a round cookie cutter, cut out circles. Place ½ a teaspoon of filling at the centre of each circle. Cover with another piece of dough. Using your fingers, gently push down on the ravioli to remove the air and seal the raviolo all around. Boil Ravioli in salted water until they float (around 3 minutes). To serve, plate ravioli, drizzle on the sauce and sprinkle the walnuts.
Watch the episode with the recipe here: https://tvmi.mt/episode/17268