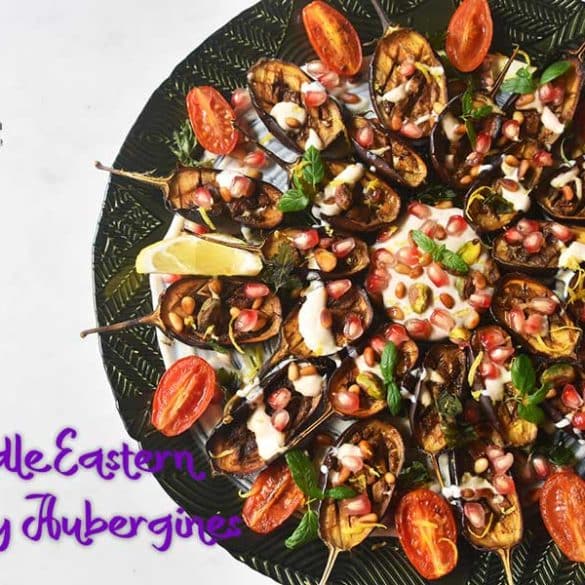 Ingredients
12 baby aubergines
Alpro Plain or Greek Style Yoghurt (dairy free)
Low Fat Tahini
Pomegranate Arils
Pine nuts
Pistachio nuts
Ground cumin
Ground coriander
Ground sweet paprika
Garlic
Extra virgin olive oil
Parsley and mint leaves
Instructions
Halve the aubergines and score the flesh. Place them on a baking tray, brush each half with a mixture of olive oil, salt & pepper, your favourite spices (I chose ground cumin, coriander and paprika) and crushed garlic cloves. Bake in a hot oven for as long as it's necessary to cook the aubergines, it shouldn't take more than 10mins as they need to remain tender. If you opt for regular sized aubergines, it may take 20 to 25mins.

Meanwhile prepare the dressing by mixing 200g plain yoghurt and 100g tahini, adding lemon juice and extra virgin olive oil to thin the consistency and give a punching flavour.

Arrange the baked aubergines on a serving plate, drizzle with the yoghurt & tahini dressing and top with pomegranate seeds, nuts, fresh mint & parsley leaves. Finish with lemon zest (I like lemon peel shavings).

Serve with your favourite salad, or as finger food if you have guests for drinks!