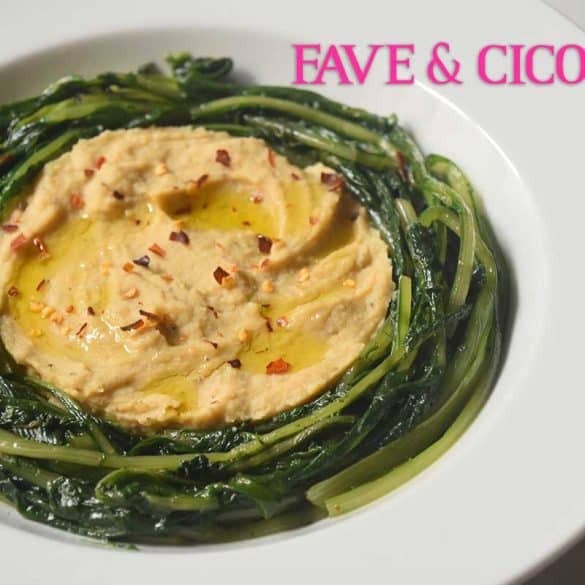 Ingredients
250g dried fava beans or favetta
1lt water
salt & pepper
500g fresh cicoria (dandelion greens), if you don't find locally, use fresh spinach leaves
1 garlic clove
Extra virgin olive oil
1 or 2 bay leaves
Chilli flakes
Instructions
Start by making the fava bean puree, it's very simple. Soak the beans in water overnight, then rinse them well under running water and transfer them in a large pot of salted water with the bay leaves, bring to a boil and simmer until they're mushy.

During this process you can prepare the greens by washing them well under cold water and removing the white part of the stalk. Blanche them in boiling water for just a few minutes to remove the excess bitterness and soften the leaves. Transfer them into a bowl of cold water to give them a thermal shock, this will help them retain the green colour and vitamins and stop the cooking process. Allow to drain in a colander.

Once the fava beans are cooked and have absorbed all the water, you can either leave the chunky consistency and just add salt & pepper and extra virgin olive oil, or else you can mash it with a blender or masher for a smoother texture (I prefer the second one, resembling potato purée).

In a large frying pan heat some olive oil gently and sautée 1 whole garlic clove and chilli flakes, and add the greens to coat them well. Season with salt & pepper and once ready to serve remove the garlic clove.

Serve the fresh fava bean purée in the middle of a plate and decorate with the sautéed greens around it. Drizzle with extra virgin olive oil, more chilli flakes (optional) and enjoy the tastes of simple but hearty Italian food.