It's Sunday and it's tea time! Ending Malta Meat Free Week with a sugar-free but sweet treat – IMQARET! Imqaret are date slices, a very traditional street food in Malta, which are deep fried. I made a very healthy version – baked in the oven, and with no added sugars or sweeteners.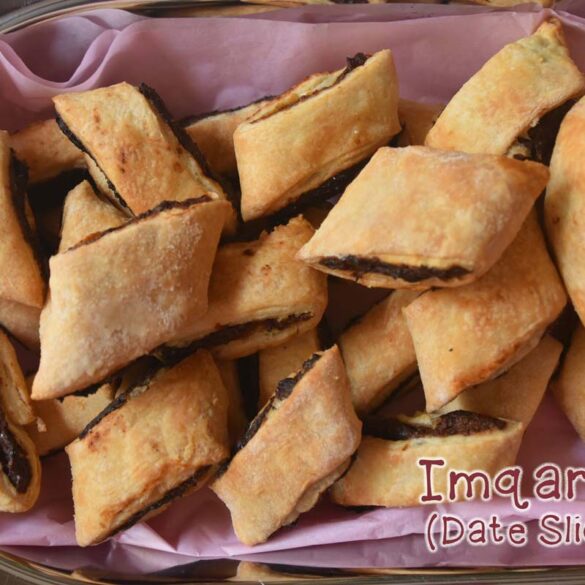 Ingredients
400g plain flour
100g margarine
cold water
1 large orange
400g pitted organic dates
star anise or Anisette
Instructions
Prepare the dough with 400g plain flour (sifted), 100g margarine, 150ml to 200ml (depending on the flour) mix of cold water & juice of 1 orange). Knead lightly until it comes together and place it in a fridge (covered) to rest.

Now you can prepare the filling by mixing 400g of pitted dates in a pan together with 120ml water and 1 star anise until the dates partially break down. Add zest of 1 large orange, mix well and let sit to room temperature. (You can replace the star anise with Anisette, but I preferred the natural herb for a milder taste).

Once filling is cold, transfer to a blender to turn it into a thick paste.

To form the diamond-shaped date slices, roll out 1/4 of the dough into a long rectangle, around 10cm wide. Place 1/4 of the filling in the centre, lengthwise and brush both sides with water. Fold each side over the other, closing well.

Cut into diamond shapes and transfer onto a non-stick baking tray. bake in a hot oven (180 degrees) for about 20 to 30 mins until the pastry is golden brown, and allow to rest on a cooling rackserve warm (you can dust icing sugar over them, but I omitted it) and enjoy without feeling guilty!
Pics by me
#alisonskitchen #cookingwithlove #plantpower #imqaret #maltameatfreeweek