This recipe is a vegan adaptation of the one my mother used to make. Basically it's like having a bowl of cereal in cake form – cannot complain to that! Also, it's technically fat free as there are no additional fat sources other than the nuts and seeds you may want to add. You can therefore start your morning right by having a slice with your tea or coffee, or maybe enjoy a slice as a healthy, fibre-rich snack at any time you please.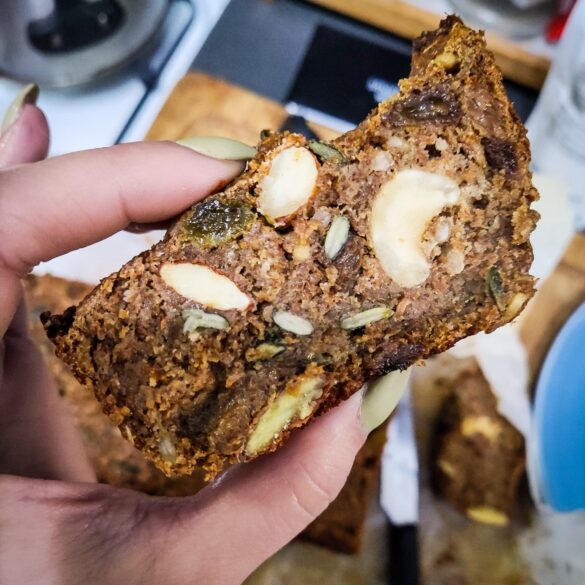 Ingredients
200g bran cereal of your choice
1 cup Alpro Plant based Protein Soya Milk
160g Good Earth Fruit, Nut & Seed Mix
4 tablespoons Good Earth Golden Granulated Natural Unrefined Cane Sugar
juice and zest of one orange
1/2 teaspoon mixed spice or cinnamon
1/2 cup Doves Farm Organic Self Raising Flour
1 tablespoon ground flaxseed
3 tablespoons water
Instructions
In a large bowl, mix together the first 6 ingredients and let soak for at least 2 hours. If mixture is still on the dry-side, add more milk and combine so that everything is evenly soaked.
Pre-heat oven at 180 degrees Celsius.
Mix together the ground flaxseeds with water to create a flax-egg. Set aside to thicken.
Fold the flour and the flax-egg together with the cereal mixture. Try to not over-mix.
Prepare and line a loaf tin with parchment paper, and place mixture in the tin. The mixture will be thick so make sure it's evenly distributed.
Bake for 45-60 mins.
Let cool, and enjoy.