Vegan, flourless, sugar-free brownies made of only 4 ingredients! Simple and quick treat that will disappear simply and quickly too. With 129 calories a piece and suitable for people who are gluten intolerant. Try it out and let us know what you think!
Video recipe is also available on VeggyMalta Facebook page 🙂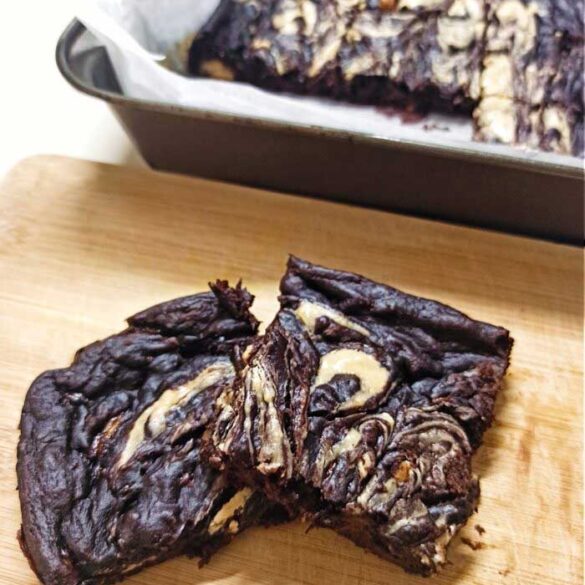 Ingredients
2 large over-ripe bananas
1/2 cup + 1 tbsp peanut butter
1/3 cup raw cocoa powder
1/2 tsp baking soda
Instructions
In a medium bowl mash the bananas with a fork. Add 1/2 cup of peanut butter, cocoa powder and baking soda. Mix to combine.
Transfer to a small square tin and spread evenly. Take 1 tbsp of peanut butter and drizzle it over the batter. Take knife and gently incorporate it into the batter.
Bake at 180°C for 25-30 minutes.
Nutritional information (1/9): 129 kcal  12g Carbs, 5g Protein, 9g Fat
Notes
If you like sweeter desserts, you may add some sweetener, such as maple syrup or stevia.