A classic pasta dish one will find on every restaurant's menu, is the notorious vegan pasta carbonara.
This recipe is vegan twist on this popular pasta dish and it is super easy to make! It is also worth noting that this sauce is higher in protein thanks to the silken tofu making it much healthier and light.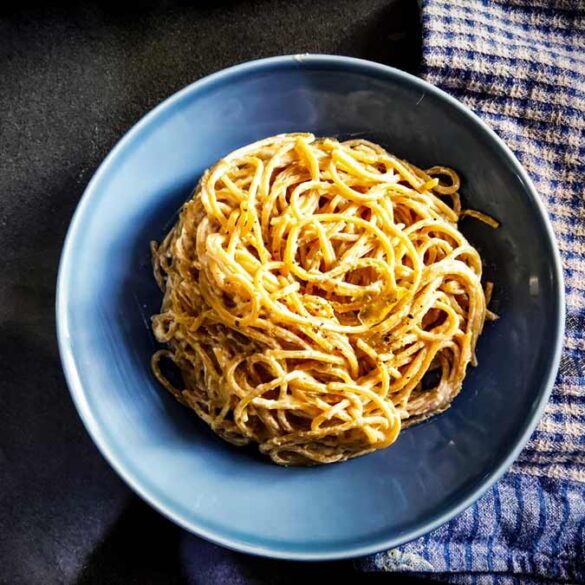 Ingredients
300g (one packet) Clearspring Organic Silken Tofu
300g Good Earth Organic Wholewheat Spaghetti
3 tbsp Marigold Engevita Nutritional Yeast Flakes
1 tsp Sunita Lemon Juice
1 garlic clove
1 tablespoon olive oil
Himalayan salt and black pepper to taste
Instructions
Boil and cook the pasta according to instructions.
In the meantime, heat a small pan with olive oil.
Smash the garlic clove and gently fry until golden (for a minute or so). Take it off from the heat and set aside.
In a blender, place all of the ingredients, including the cooked garlic and combine. Ensure that the garlic has blended well into the sauce.
Reserve some pasta water and drain the spaghetti.
Put the pan back on the heat, place the spaghetti and the sauce and combine. If the sauce is drying up, pour some of  the reserved pasta water until desired consistency is reached.
Enjoy!
Notes
It is very important that you do not burn the garlic otherwise it will turn bitter. Keep an eye on the colour so to remove from the pan as soon you see the garlic turning into a golden, yellowish hue. Feel free to top this pasta dish with some vegan parmesan, more pepper, mushrooms or even some crispy tofu! This recipe is so simple that it can be customised as you please.