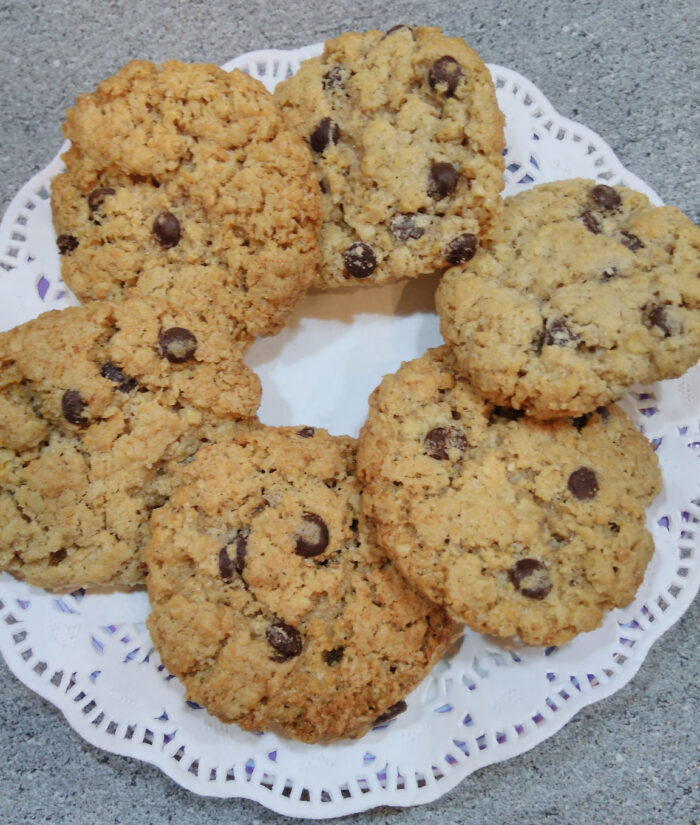 Today I wanted to share my favourite vegan go to cookie recipe. These are what I usually end up making on a gloomy day. Baking makes me forget the bad weather and I end up with a nice treat to enjoy with a comforting cup of coffee.
Oatmeal Cookies
They are super easy to make and you don't need any fancy ingredients either, just basic store cupboard staples.
So you start by mixing your dry ingredients together:
145g oats
125g flour
80g coconuts
1/2 tsp salt
1 tsp cinnamon
Then cream together:
200 sugar (white or soft brown)
115 margarine
3 tbsp golden syrup (maple or agave are also fine)
1 tsp vanilla essence
2 tbsp milk (any type you fancy plant-based or otherwise)
Now stir in your dry mix and about 170g chocolate chips. Form into balls (I like to weigh mine to get nice even sized cookies), place a little distance apart on a baking sheet covered with baking paper and flatten with a spoon. Bake at 180 C for about 15 mins. Don't forget that cookies should still be a little soft when you take them out. They will crisp a little as they cool.
If you divide your dough into pieces of about 40g , you should end up with about 20 cookies. I like to vary these sometimes by replacing the coconut with cocoa powder and the chocolate chips with chopped roasted hazelnuts. Experiment with your favourite flavours and enjoy.