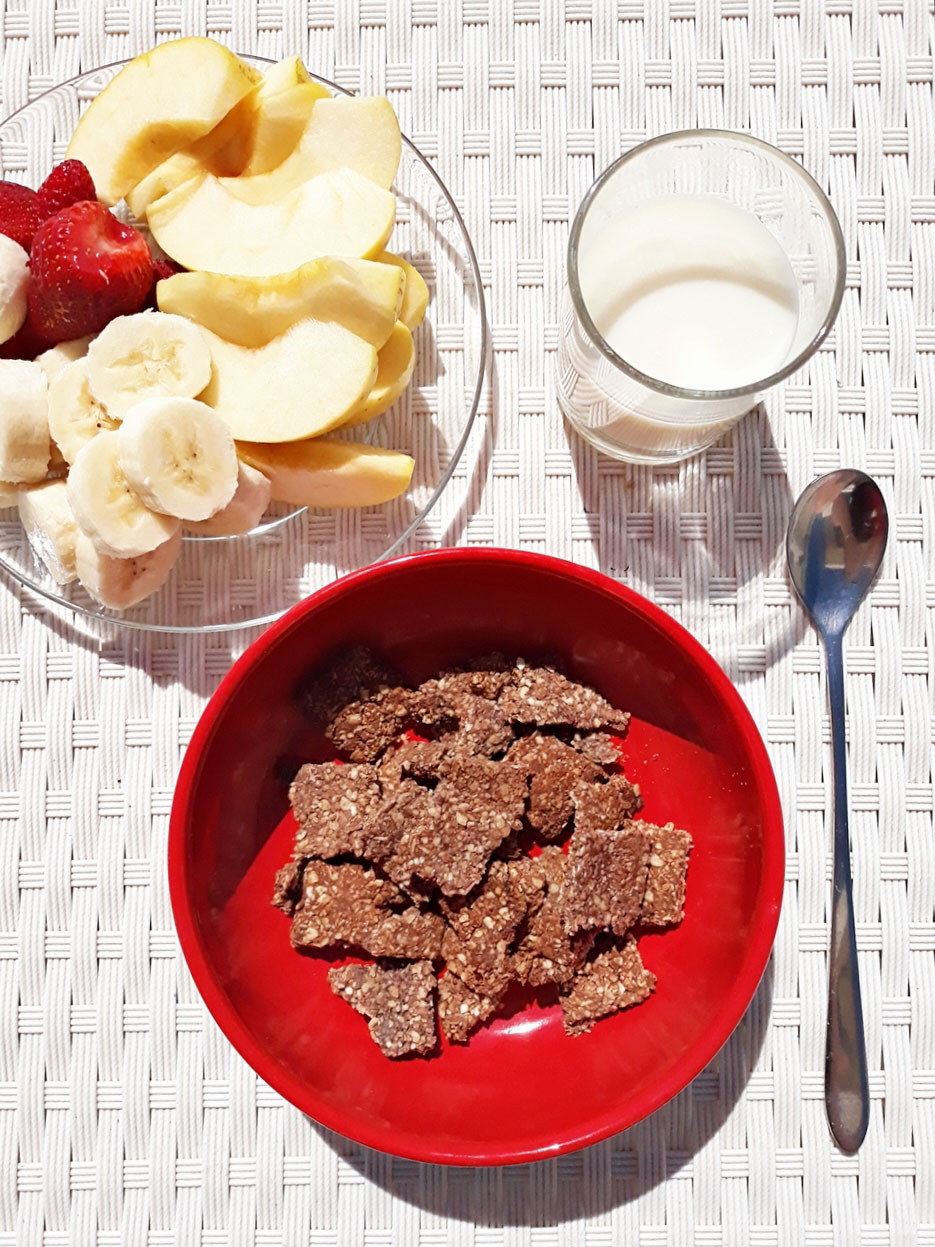 I will never buy cereal in the shop anymore…unless I am really lazy to make this one myself 😀 Still, it is never going to taste like this, which you make with love and put the effort in. It is healthy, heavenly tasty and vegan. No flour, no refined sugar and no unnecessary additives. Just the good stuff. When I make this cereal, it never last long because I can eat it alone with coffee or just like that by itself. You must certainly try this one!
Ingredients:
2 cups oat flour
1 scoop vegan protein powder (optional)
3 tbsp (40g) melted coconut oil – I used Good Earth
4 tbsp (65g) maple syrup
5 tbsp shredded coconut
1 tbsp cocoa powder
1 tsp vanilla extract
Pinch of salt
1 tsp cinnamon
About 1/3 cup warm water

Directions:
Mix all dry ingredients in a large bowl, than add maple syrup, coconut oil and vanilla extract. Slowly start adding water (you might need more or less) till the mixture starts to stick together.
Prepare a large baking sheet with paper and transfer the mixture there.
Press it to the bottom of the tin making a thin layer (the thinner you make it, the crispier it will become) using measuring cup or a spoon or simply your hands – that is how I do it 😀 Edges may crumble a bit, but that is ok.
Now, cut it into small squares or rectangles, depends on what shape you prefer. You do not need to cut it all the way through, just make lines.
Bake at 165°C about 30 minutes. Remove from the oven, let cool completely and break into squares/rectangles according to the lines. Transfer to an airtight container where you can store it 🙂
 Serve with plant milk, or whatever you like your cereal with and most importantly, enjoy!
The recipe should make about 7-8 serving.
Nutritional information (1 serving – 50g):
1000kJ/239 kcal    11g Fat, 29g Carbs, 4g Fiber, 8g Protein