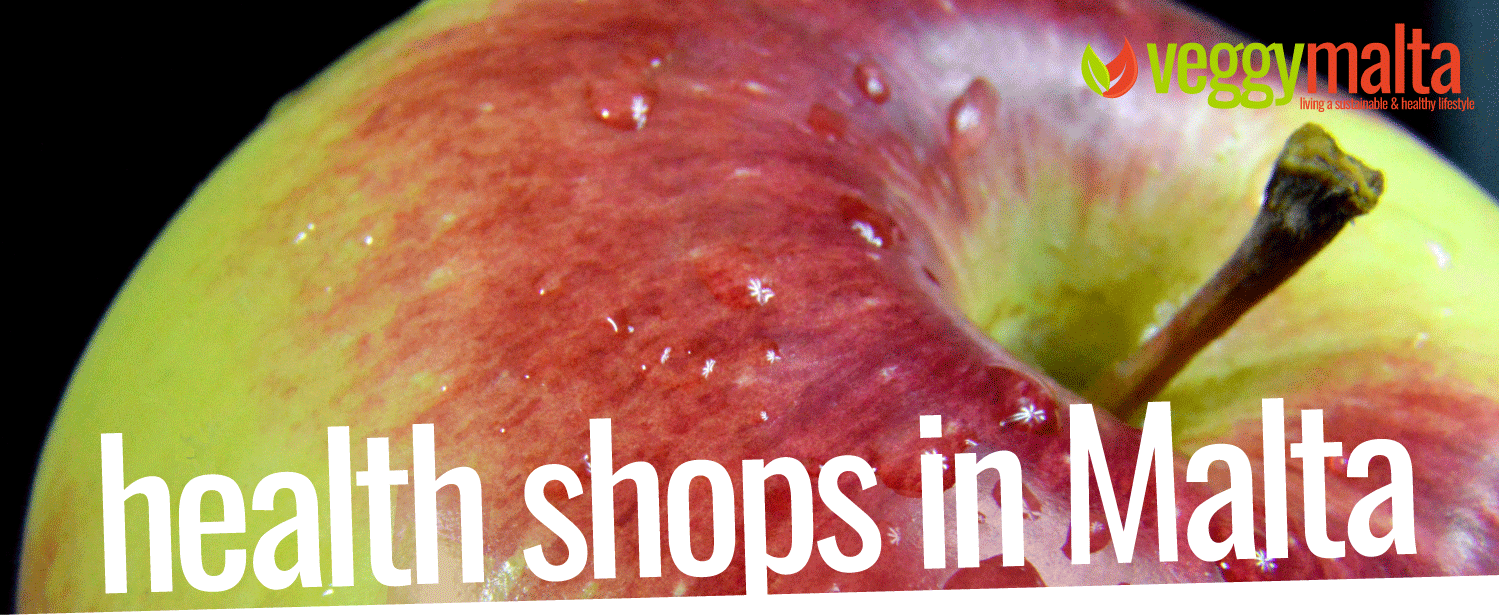 Are you looking for a health food shop in Malta or Gozo? Do you want a list of health food shops to check which is the closest for you to buy from? Veggy Malta has compiled a list of shops that sell healthy food according to where they are found on the island. Whilst many people choose to buy from traditional retail, one must highlight that health shops are important. They offer a more personalised service. The staff is usually more knowledgeable on nutrition and can offer advise. And the product offer inside health shops is more focused.
Health shops are not just for vegans, vegetarians, people suffering from intolerances but they clearly are for everybody who wishes to ingest healthy food. Many health food shops today offer a wide range of products, including packaged health food, fresh food (to consume), vitamins and supplements, gluten-free products, dairy free products, fresh organic vegetables, packaged organic products, frozen food, cruelty free cosmetics and eco-friendly household products. I have listed these main categories and labelled them accordingly.
The following are the labels for the product categories
C – Cruelty-free cosmetics and body-care products
D – Dairy free products
E – Eco-friendly household cleaning products
F – Fresh health food & snacks (which you can consume there and then or take to work)
G – Gluten-free products
H – packaged Health food
O – packaged certified Organic products
S – vitamins and Supplements
V – fresh certified organic Vegetables
Z – vegan froZen food
List of Health shops
If a shop offers a product category, that label will be in bold.
Attard: Holland & Barrett [CDEGHS] | The Veg Box [O]
B'Kara: Good Earth Smart [DEFGHOS]
Fgura : Hames Sensi [CDGHOSV] | Holland & Barrett [CDEGHS]
Mellieha: Natural Health Malta [CDGHO]
Mgarr: Vincent's Eco Farm [DGHOSV]
Mosta: Dical House [DGHO] | Holland & Barrett [CDEGHS]
Naxxar: Livwell [DEFGHO]
Qormi : Holland & Barrett [CDEGHS]
San Gwann : Sattva [CDEGHOS] | Good Earth [DEFGHOS]
St Julian's : Holland & Barrett [CDEGHS]
St. Paul's Bay : Holland & Barrett [CDEGHS]
Sliema : Good Earth Balluta [DEFGHOS] | Holland & Barrett [CDEGHS] Casa Natura [CDEGHOSZ]
Swieqi : Malta Biomarket [CDEGHOSVZ]
Valletta : Good Earth [DEFGHOS] | Holland & Barrett [CDEGHS]
Victoria : Holland & Barrett [CDEGHS]
Zurrieq : The Healthy Pantry [CDEGHOS]
Whilst there might be other health food shops, the list will only includes those shops that have been reviewed by Veggy Malta. These shops have been individually visited. Veggy Malta will not vouch for any retail outlet that has not been visited and checked at least once. In fact each one of the names below leads to a specific blog post describing that shop.
Updated 21/05/2018